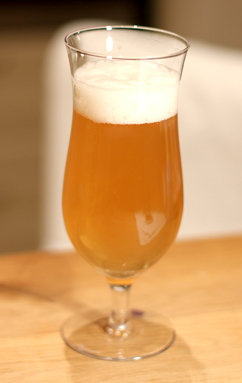 This recipe by Kevin Consentino is a gold medal winner from the 2008 National Homebrew Competition, in Category 16 Belgian and French Ales.
When working with brettanomyces it is highly recommended to have a separate set of equipment to prevent contamination of future batches. A thorough cleaning of glass should get rid of brettanomyces remnants.
100% Brettanomyces Belgian Specialty Ale | Belgian Specialty Ale
Ingredients
For 6 gallons (22.7 L)
11.5 lb (5.22 kg) | Weyermann pilsner malt
1.0 lb (0.45 kg) | Weyermann Vienna malt
1.0 lb (0.45 kg) | Weyermann acidulated malt
0.5 lb (227 g) | Weyermann malted wheat
2.0 oz (57 g) | Hersbrucker pellet hops (60 min.)
0.25 oz (7 g) | Styrian Goldings pellet hops (2 min.)
Wyeast B. bruxellensis (3 qt starter)
Wyeast B. lambicus (1 qt starter)
1 tsp diammonium phosphate for yeast nutrient (4.9 mL)
0.75 cup corn sugar per 5 gallons to prime
1 tablet Whirlfloc
Specifications
Original Gravity: 1.055
Final Gravity: 1.003
ABV: 6.8%
IBU: n/a
SRM: n/a
Boil Time: 90 minutes
Efficiency: n/a
Pre-boil Volume: n/a
Pre-boil Gravity: n/a
Directions
Mash at 148° F (64° C) for 60-90 minutes (until conversion is complete).
Mash out at 168° F (76°C) for 15 minutes.
After boil, chill to 65 F, and hit it with about 30 seconds of oxygen.
Hold beer temperature at 65° F for the rest of fermentation.
Primary Fermentation: 45 days at 65° F (18° C) in glass.
Judges' Notes:
"Bready malt with barnyard Brett character. Finishes bone dry with some lingering bitterness. A really nice Brett beer. Nice barnyard with hints of pineapple."
"Nice balance, classic Brett character, grainy malt backbone, spicy hops complement. All that is good about Brett, with no negatives to mar it."
"Musty, tangy, very interesting. Orval-like hoppiness. I love the aroma."
Photo © Christer Edvartsen via Flickr CC