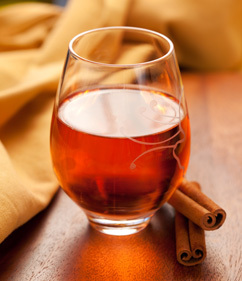 John Jurgenson secured the title of 2006 National Homebrew Competition Cidermaker of the Year for his medium pétillant spiced cider he simply calls, "Spiced Cider."
This recipe along with the rest of the 2006 NHC-winning recipes are featured in the September/October 2006 issue ofZymurgy, which can be accessed by AHA members via the eZymurgy archive.
Ingredients
For 5 gallons (19 L)
5.0 gal (19 L) pasteurized Knudsen's organic cider
cinammon
nutmeg
Everclear
Cote de Blanc yeast
Specifications
Original Gravity: 1.050
Final Gravity: 1.000
ABV: 6.5%
IBU: n/a
SRM: n/a
Boil Time: n/a
Efficiency: n/a
Pre-boil Volume: n/a
Pre-boil Gravity: n/a
Directions
Cider: After racking to tertiary, stabilize and clarify. Rack again. Sweeten to taste. I used ~4.5 teaspoons per pound of cider. Force carbonate to taste.
Spices: Soak cinnamon and nutmeg in Everclear in seperate jars. Add spices to taste. I use 32 drops cinnamon and 8 drops of nutmeg per pound of cider.
Primary Fermentation: 7 days at 70°F (21°C) in glass.
Secondary Fermentation: 7 days at 70°F (21°C) in glass.
Tertiary Fermentation: "it seems like a long time" at 70°F (21°C).
Judges' Comments
"The blanace beckons you to drink more. All spices compliment the tartness of the apples in the finish. Beautiful."
"I think you hit this one on the nose. Bright apple flavor matches clarity. Nutmeg, if there, merely adds to the complexity. I could drink this all night."