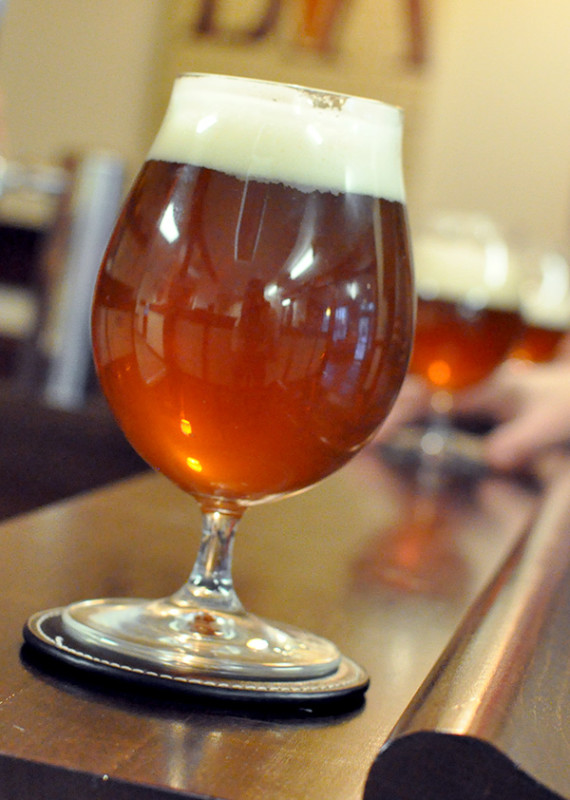 Phil Keener earned a gold medal in the AHA 2009 National Homebrew Competition for this Belgian Dubbel recipe. The judges noted the esters, with dominant banana & bubblegum notes and a hint of mild caramel. This recipe not only uses extract, hops, yeast and water, but also Belgian candi sugar and maple syrup to add more depth and character to this delicious brew without the need of additional special processes or equipment.
Learn more about the National Homebrew Competition, and be sure to head over the the Beginner section to learn more about the art of homebrewing.
Phil Keener's Belgian Dubbel | Belgian Dubbel
Ingredients
For 5 gallons (18.9 L)
6.6 lb (3.0 kg) | Muntons light liquid malt extract
2.0 lb (0.9 kg) | Extra light dry malt extract
1.0 lb (0.45 kg) | Belgian candi sugar (from your local homebrew shop)
0.25 cup (59 ml) | maple syrup
2.0 oz (57 g) | Cascade hops, 5.75% alpha acid (60 minutes)
1.0 oz (28 g) | Cascade hops, 5.75% alpha acid (5 minutes)
2 pckgs | Wyeast 1214 Belgian ale yeast
5.0 oz (142 g) | corn sugar (to prime)
Specifications
Original Gravity: 1.068
Final Gravity: 1.012
ABV: 7.5%
IBU: n/a
SRM: n/a
Boil Time: 60 minutes
Efficiency: n/a
Pre-boil Volume: n/a
Pre-boil Gravity: n/a
Directions
Bring 1 gallon (3.8 L) of water to a boil. Remove from burner and stir in extract, candi sugar and maple syrup.
Boil for a total of 60 minutes, adding hops as indicated in the recipe (the times listed are from the end of the boil). Strain into fermenter with 3 gallons (11.4 L) of cold water (note: DO NOT transfer hot wort into glass carboys).
Top up with cold water to make 5 gallons (18.9 L) total. When temperature drops below 75°F (24°C), pitch yeast.
Ferment for 10 days at 70°-72°F (21°-22°C) or until airlock activity ceases. If you have a second fermenter, rack to secondary fermenter and age 30 days. If you do not have a second fermenter, age another one to two weeks in primary before bottling.
Bottle with 5.0 oz (142 g) corn sugar.