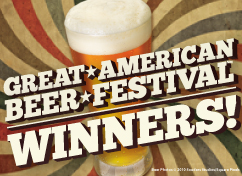 The 2010 Great American Beer Festival (GABF) competition drew an impressive field of competitors, with 2010 topping last year's entries by nine percent. GABF remains the largest commercial beer competition in the world, with 3,523 beers vying for medals (compared to 3,308 entries in 2009).
This year's GABF competition attracted 151 beer judges from 10 countries. Award-winning brewers received prestigious gold, silver and bronze medals in 79 beer categories covering 133 beer styles, establishing the best examples of each style in the U.S.
The most competitive category was again American-Style India Pale Ale with 142 entries, with winners spread more geographically than in the past. The gold medal went to "Pseudo" IPA from Pizza Port San Clemente. The second most hotly contested category was American-Style Pale Ale with 109 entries. The gold medal went to Mission Street Pale from Firestone Walker Brewing Company.
Three new categories were judged in this year's GABF competition: Imperial Porter (nine entries), Wood- and Barrel-Aged Strong Stout (34 entries), and American Style India Black Ales (with an impressive 53 entries in its first year as a category).
The top five entered categories were:
• American-Style India Pale Ale – 142 entries
• American-Style Pale Ale – 109 entries
• Imperial India Pale Ale – 97 entries
• Herb and Spice or Chocolate Beer – 91 entries
• American-Style Strong Pale Ale – 84 entries
Homebrewers Association
Homebrewers Association