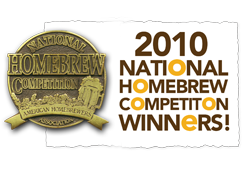 The lights were low, the Rogue was chilled & over 900 homebrewers packed into the Sheraton Bloomington South Hotel for the biggest night in homebrewing. Homebrew Chef Sean Paxton made an amazing dinner of Juicy Johnjohn Juniper Pale Ale brined chicken breasts with a lingonberry Captain Sig's N'Western Ale sauce. See the full list of the 2010 National Homebrew Competition Winners, and stay tuned for photos and much more!
2010 Winners Overall Winners
Cidermaker of the Year:
Anjie Watts
Alpharaetta, GA
Brewmasters of Alpharetta
Meadmaker of the Year:
Rodney Kibzey
Lombard, IL
Chicago Beer Society
Homebrewer of the Year:
Remi Bonnart
Fort Collins, CO
Liquid Poets
Ninkasi Award Winner:
Gordon Strong
Beavercreek, OH
Saint Paul Homebrewers Club
Gambrinus Club Award:
MECA Brewers
Shelbyville, IN
Homebrew Club of the Year Award:
Diablo Order of Zymiracle Enthusiasts (DOZE)
Concord, CA
Do you know of a news story we should be covering?
Tell us about it
and we might feature it on HomebrewersAssociation.org!
Homebrewers Association
Homebrewers Association