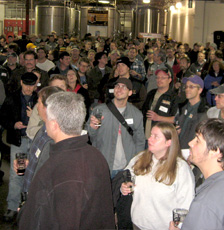 156 Join the AHA at Surly Brewing Co. – Oct 10, 2009
Surly Brewing Co. collaborated with the American Homebrewers Association (AHA) on Oct 10th to host the largest AHA Rally to date. Roughly 330 AHA members attended the event, despite the freezing temperatures. 156 people joined the AHA at the Rally, making it the most successful member Rally of all time. With donated malt from Mid Country Malt Supply, the brewers at Surly Brewing Co. brewed two batches of Imperial Brown and gave it away to attendees. Members took away carboys, kegs and even plastic buckets of wort home to ferment. Northern Brewer was also onsite, handing out free yeast. Visit the Rallies page for more information.
Do you know of a news story we should be covering?
Tell us about it
and we might feature it on HomebrewersAssociation.org!
Homebrewers Association
Homebrewers Association