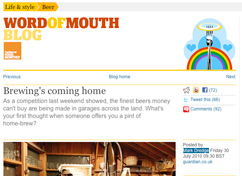 Mark Dredge explores the homebrewing roots of many of the world's craft breweries, introduces the hobby and the options available to homebrewers when brewing, and even gives props to the National Homebrewers Conference and Competition. Dredge wants the world to know just how much these brewers influence the craft beers we drink, "…they (home-turned-pro-brewers) are pushing the boundaries and trying new things, forging the future of brewing
Do you know of a news story we should be covering?
Tell us about it
and we might feature it on HomebrewersAssociation.org!
Homebrewers Association
Homebrewers Association