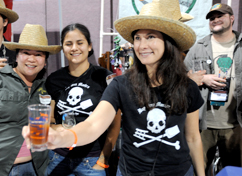 Club Night at the AHA National Homebrew Conference is the biggest and craziest homebrew-only beer festival you could possibly imagine. Clubs from all over are represented on Friday night of the AHA Conference. You'll never believe the antics these brewers get themselves into!
Club Night has a history of access to some of the finest beers produced by our amazing community of homebrewers. Most bar owners would drool over many of these tap systems, and the costumes are not to be missed. Many clubs develop their booth and costumes around the theme of their club name or of the Conference. Be creative and don't worry if you look silly; the club next to you will look even sillier. If you are not into decorating or looking goofy, but want to share your beer, you are just as welcome.
For more information about being a part of Club Night at the AHA National Homebrewers Conference visit the Club Night page of AHAConference.org.
Here's a look at the particpating clubs for 2010:
Ames Brewers League, Ann Arbor Brewers Guild, Austin ZEALOTS, Beer Barrons of Milwaukee, Bell City Homebrewers and Vintners, Bidal Society of Kenosha, Cincinnati Malt Infusers, Cloudy Town Brewers, Fellowship of Oklahoma Ale Makers (FOAM), Foam Blowers of Indiana (FBI), Garage Brewers Society, High Plains Draughters, Homebrewers Pride of the Southside (HOPS!), Iowa Brewers Union (IBU), Jack of All Brews, La Crosse Area Grain Enthusiasts and Related Specialties (LAGERS), Lincoln Lagers, Madison Homebrewers and Tasters Guild, MASH (Marshfield Area Society of Homebrewers), The Midnight Carboys, Midnight Homebrewers' League, Minnesota Home Brewers Association, Northern Ale Stars, Prairie Homebrewing Companions, Rock Hoppers Brew Club, The Primary Fermenters Brewers and Vintners of Minnesota, Racine Homebrewers, Railroader's Brewclub, Rochester Area Zymurgy Enthusiasts (RAZE), St Paul Homebrew Club, Urban Knaves of Grain and more…
Do you know of a news story we should be covering?
Tell us about it
and we might feature it on HomebrewersAssociation.org!
Homebrewers Association
Homebrewers Association