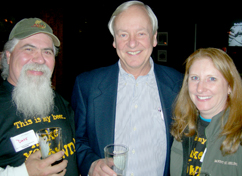 F.X. Matt Brewing Co. hosted an AHA Rally at the Saranac brewery in Utica, NY. American Homebrewers Association (AHA) members were treated to a VIP tour of the brewery, met Fred & Nick Matt and had the pleasure of sampling many Saranac beers. Nearly every attendee got an AHA or Saranac door prize and everyone was sent home with a growler of Saranac beer! At right: Dave Scheuing, Nick Matt & Laurie Scheuing enjoy themselves at Sarnac.
About an AHA Rally
American Homebrewers Association (AHA) members can attend the Rally for free, as a benefit of AHA membership. Non-members can join the AHA at the door for a discounted member rate to partake in the fun. Designated drivers are welcome and may attend for free with an AHA member.
Do you know of a news story we should be covering?
Tell us about it
and we might feature it on HomebrewersAssociation.org!
Homebrewers Association
Homebrewers Association