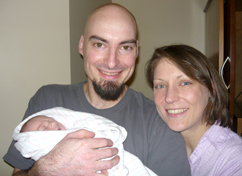 American Homebrewers Association Director Gary Glass and his wife Erin Glass, Brewers Association Membership Coordinator and Brewery Detective, welcomed their daughter to the world on the morning of November 19, 2009. Maya Ryleigh Glass, was born at 9:25 AM MST, weighing in at 6 pounds 14 ounces and measuring 19.5 inches long. She has a head of dark hair and blue eyes. Gary and Erin are thrilled to be the parents of this special girl and are looking forward to spending the holidays with the newest member of the family.
Do you know of a news story we should be covering?
Tell us about it
and we might feature it on HomebrewersAssociation.org!
Homebrewers Association
Homebrewers Association