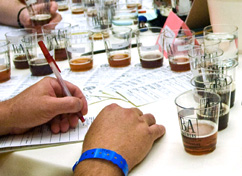 In early October, the first Annual Nederland, Colorado Homebrew Competition was hosted by Wild Mountain Smokehouse & Brewery coupled with Nederland's Oktoberfest celebration. The winner of the competition, which drew 24 local homebrew entries, was Shane Verheyen of Colorado Springs, CO.
For his prize, Shane was awarded the opportunity to have his winning beer, the Mt. Bald Dickdirter, on tap at the brewery and entered into the 2011 Great American Beer Festival Pro-Am Competition with Wild Mountain.
The trend of breweries hosting homebrew competitions is quickly evolving and serve as wonderful opportunities for homebrewers to take their hobby to the next level. A similar upcoming event, the Abita Brewing Homebrewing Competition will be held on November, 13 in Abita Springs, Louisiana. If there are others that you know of, please leave the information as a comment for your fellow homebrewers to see!
If you wish that your city or town would jump on board with the homebrewing craze, why not organize a competition? Organizing competitions is easy to do and it's a great way to build the homebrewing community in your area. The homebrewer who wins the Best of Show in any AHA and Beer Judge Certification Program (BJCP) Sanctioned Competition is awarded one free entry into the AHA National Homebrew Competition—the world's largest international beer competition.
Plan an AHA/BJCP Sanctioned Homebrew Competition
Competitions must be registered two months prior to the competition day, but the earlier your register the competition the more time you have to promote it. Learn more about competition requirements.
There is a $30 fee to register a competition with the AHA/BJCP Competition Program.
Registered competitions are listed on the AHA Events Calendar, the BJCP Competition Calendar, and may be published in Zymurgy if registered at least two months prior to the event
The BJCP Competition Director provides the competition materials you will need to make your competition a success.
Homebrewers Association
Homebrewers Association