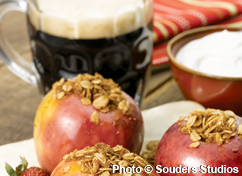 With the holidays rapidly approaching, there's nothing like a good beer paired with good food. Pairing beer and food allows the flavors of both to shine through and compliment the other. For a delectable dish that will surely impress your friends and family, try Vermont Porter-Poached Apples with Maple Whipped Cream and Cinnamon Toasted Oats. These apples are gently spiced and good for brunch as well as dessert. Be sure to pair them with your favorite Porter or brew one at home to go with them. You can find many homebrew recipes, like Positively Porter (all-grain or extract), on the AHA Homebrewopedia.
Vermont Maple Syrup and Porter-Poached Apples*
6 baking apples (Rome, Cortland, Macintosh, or Golden Delicious)
3 (12-ounce) bottles porter or other dark ale
1 cup Vermont maple syrup
Juice of 1 lemon, plus additional for adding to water
1⁄4 teaspoon mace
1 cinnamon stick
Fresh seasonal berries for garnish
1. Wash and core apples. Place in cold water mixed with lemon juice to prevent browning.
2. Bring porter, maple syrup, lemon juice, mace, and cinnamon stick to a boil. Reduce to a simmer; submerge apples in poaching liquid. Poach 8 to 10 minutes, or until apples begin to soften and look shiny.
3. Remove from liquid, plate, and garnish with Maple Whipped Cream, Cinnamon Toasted Oats, and fresh seasonal berries.
Makes 6 servings
Maple Whipped Cream
2 cups heavy cream
2 tablespoons granulated sugar
2 tablespoons Vermont maple syrup
1. Place ingredients in a cold, stainless steel bowl. Whip slowly until stiff peaks form. Use immediately or refrigerate until needed.
Makes 2 cups
Cinnamon Toasted Oats
1 cup whole oats
3 tablespoons melted butter
1⁄4 cup packed dark brown sugar
Pinch salt
1 tablespoon cinnamon
Pinch freshly grated nutmeg
1. Preheat oven to 350°F. Combine ingredients and spread on a lined baking sheet. Toast oats until golden brown, about 20 minutes, stirring occasionally.
Makes 1 cup
*As prepared by Chef Will Deason of the Willimantic Brewing Company and Main Street Café in Willimantic, Connecticut.
Homebrewers Association
Homebrewers Association