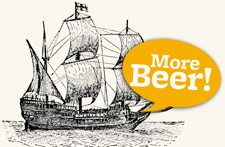 From what we've seen, homebrewers tend to be pretty sciency folks. Case in point: just get your buddy going on how many volumes of dissolved CO2 are needed for a given beer style or the effect of grist-to-water ratios when mashing.
Well, here's one for the history buffs, who maybe weren't so comfortable with the Bunsen burner set in high school or college. Homebrewing's history has long been intertwined with beer's. It's a rich and ancient story going back to the days of the Sumerians, who even had a god dedicated to beer. Polytheism never looked so good!
While not quite encyclopedic, this look back at the history of homebrewing includes some pictures and a timeline, because everyone knows that helps make things easier. Added bonus: unlike in high school, you're allowed to have a beer while studying!
Homebrewers Association
Homebrewers Association