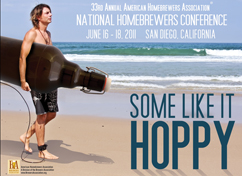 Beautiful beaches and beautiful brews await you next year, June 16-18 in San Diego for the 2011 National Homebrewers Conference. The San Diego local committee, lead by Cole Davisson is already at work to make next year's conference amazing. Be sure to register early and start brainstorming fabulous beers to bring with you. It's sure to be a great time. Stay tuned for more conference information on this website and at AHAconference.org. Watch this video & get ready for a rockin' good time!
Do you know of a news story we should be covering?
Tell us about it
and we might feature it on HomebrewersAssociation.org!
Homebrewers Association
Homebrewers Association