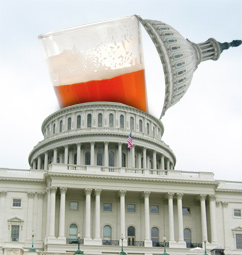 Brewing and enjoying beer has long been a part of American culture, starting with the beer-deprived Pilgrims who could not sail another day without nutritious ale. Unfortunately for the Pilgrims, there was not a commercial brewery awaiting them on the shores of Plymouth in 1620, so beer was made on a small scale in the home until a town brewery was constructed.
As commercial breweries were established and the country grew, beer enthusiasts continued brewing beer in their homes through wars, revolutions and Prohibition, maintaining the craft of homebrewing. Creating beer at home is truly an American pastime!
On May 2, 1988, Representative David Skaggs of Colorado announced before Congress that May 7 would be recognized as National Homebrew Day. Make sure to raise a glass of your finest homebrew, gather your friends and club members, and toast to the greatest hobby there is—homebrewing!
Big Brew for National Homebrew Day
The American Homebrewers Association commemorates National Homebrew Day every year with AHA Big Brew, which takes place on the first Saturday of May.
In 2013, more than 380 Big Brew sites were registered across the globe and participated in a world-wide toast in the name of all things homebrew! What better way to spread the love of homebrewing then through the creation of great beer at home?
Colonial Homebrew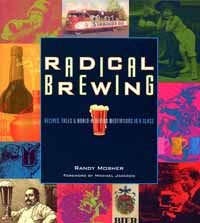 Even with a production brewery here and there, beer was still not widely available in Colonial America, and for many, homebrewing was the only means for obtaining beer.
The following is a recipe from Randy Mosher's Radical Brewing intended to replicate an ale similar to those brewed in colonial times.
Ingredients for 5 U.S. gallons (19 liters)
6.75 lb (3.1 kg) | U.S. two-row lager malt (46%)
2.0 lb (0.9 kg) | amber/biscuit malt
2.0 lb (0.9 kg) | flaked corn
2.0 lb (0.9 kg) | baked pumpkin
2.0 lb (0.9 kg) | roasted parsnips
1.0 lb (0.45 kg) | rice hulls
1.5 oz (43 g) | Fuggles, 5% aa (90 minutes)
2.0 oz (57 g) | walnut leave or cambium*
Yeast | English ale
*Cambium is the growing layer of the tree, just inside the bark, and has been used as a flavoring in beverages for centuries.
Specifications
Original Gravity: 1.060 (14.5 °P)
Alcohol/vol: 5.3-6%
Color: Pale amber
Bitterness: ~33 IBU
Directions
Pumpkin preparation (parsnips can be prepared in the same way): Cut the pie pumpkins in half and bake them pulp side down at 300°F for 1-2 hours until they are slumping, tender, and well caramelized on the bottom.
Avoid greasing the pan, as you don't want the grease in your brew. Foil is a good option. Allow the pumpkin to cool, scoop out the pulp and add to the mash. The pumpkin will contribute about 1.005 per pound in a 5-gallon batch.
This will be a goopy mash. Hold for 1.5 hours at 148°F (64.5°C), and be patient while sparging.
Allow to mature for 4-6 weeks.