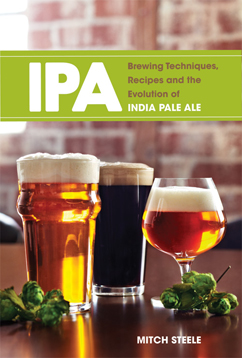 Have you ever brewed an India pale ale? Ha… Do hop bines climb in a clockwise manner!? Of course you have, and we want to hear the creative names you've given your IPAs. Submit your best IPA name to be entered into a drawing to win a copy of Brewers Publications' new release, IPA: Brewing Techniques, Recipes and The Evolution of India Pale Ale, by Mitch Steele.
The Fine Print
To officially enter and be eligible to win a free copy, submit the best name of one of your own homebrewed IPA recipes by end of day Friday, September 21. Winners will be chosen at random, however, submitting a back story along with your recipe's name is strongly encouraged. A select few names and stories chosen by the AHA staff will be featured on the AHA website. Winners will be announced on September 24.The entry deadline is September 21, and winners will be announced September 24. Also, stay tuned in October for Q & A with Mitch on the AHA Forum.
Do you know of a news story we should be covering?
Tell us about it
and we might feature it on HomebrewersAssociation.org!
Homebrewers Association
Homebrewers Association