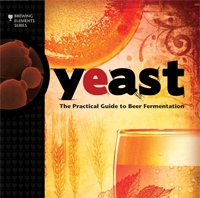 Boulder, CO • August 19, 2010 – Brewers Publications, a division of the Brewers Association, announces the publication of its latest title, Yeast: The Practical Guide to Beer Fermentationby Chris White and Jamil Zainasheff.
Yeast: The Practical Guide to Beer Fermentation is a resource for brewers of all experience levels. The authors adeptly cover yeast selection, storage and handling of yeast cultures, how to culture yeast and the art of rinsing/washing yeast cultures.
AHA members receive special discounted pricing during the pre-publication sale. Check your email for details, sale ends September 12.
Do you know of a news story we should be covering?
Tell us about it
and we might feature it on HomebrewersAssociation.org!
Homebrewers Association
Homebrewers Association