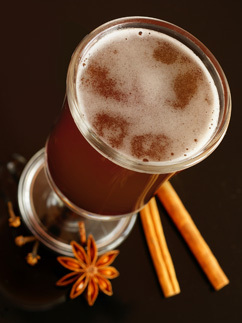 Gordon Strong constructed this recipe after recognizing the potential the spices in his iced chai tea had in homebrewing. This recipe is featured in Gordon's book Brewing Better Beer: Master Lessons for Advanced Homebrewers.
Ingredients
For 6 gallons (22.7 L)
4 lbs (1.8 kg) | Maris Otter malt
4 lbs (1.8 kg) | Vienna malt
1 lb (454 g) | Honey malt
1 lb (454 g) | CaraVienne malt
1 lb (454 g) | U.K. Crystal 80° L malt
0.25 lb (113 g) | U.K. Chocolate malt
0.75 lb (340 g) | Quaker Oats, toasted 20 minutes at 250° F (121° C), cooled
0.5 lb (227 g) | Lactose (15 minutes)
1.25 oz (35 g) | Saaz whole hops, 4% alpha acid (60 minutes)
White Labs WLP002
Specifications
Original Gravity: 1.048
Final Gravity: 1.016
ABV: 4.2%
IBU: 18
SRM: n/a
Boil Time: 90 minutes
Efficiency: n/a
Pre-boil Volume: n/a
Pre-boil Gravity: n/a
Directions
Mash at 150°F (66°C) for one hour. Mash-out at 170°F (77°C).
Boil for 90 minutes, following boil schedule noted in ingredients.
Ferment at 67°F (19°C).
Post fermentation, blend in tea to taste.
Keg and force carbonate.
Chai Spiced Tea Ingredients
1 vanilla bean, split and scraped
2 cinnamon sticks
2-inch piece of ginger, peeled and sliced
5 whole cloves
2 star anise
24 green cardamom pods, split
1 black cardamom pod, split
2 tsp. black peppercorns
1/2 whole nutmeg, roughly chopped
1/4 tsp. fennel seeds
Preparing Spices
Bring about 1 quart filtered water to a boil, then pour over spices and cover in a separate container.
Let steep for 15 minutes, then strain to remove spices. Cover tea and keep chilled until used.
I blended in about 2 cups (473 milliliters) of this liquid in the 5-gallon (19-liter) batch. But you want to do it slowly, mix it well, and taste it. Different people have different tastes, so you're looking for a nice balance without being overpowering with the spices.
Don't use tea—it has too much tannin.