Link to article
Thanksgiving is a time to share with people you love, celebrate food and beer, and of course, give thanks. Finding ways to incorporate beer into your cooking adventures isn't just fun, but it's also a great way for homebrewers to offload some of that inventory (c'mon, don't act like you don't have scads of beer tucked away somewhere). What about your grandma who's not a drinker? What better time to showcase the fruits of your homebrewing labor than to sneak it into the turkey stuffing?
These recipes call for specific beers, but don't let that scare you. We suggest—in fact, we encourage—using your own homebrews and similar styles. Pairing food and beer is fun and fancy, but the union of the two in your favorite dishes is downright toothsome. Where would we be without the brilliant culinary genius born of combining beer and food in the kitchen? We don't want to know. But we do know that it was a great idea to pair up with CraftBeer.com and bring you this lineup of traditional Thanksgiving recipes, all with a beer-y twist.
1. The Tipsy Turkey
You knew it was coming. What's a turkey without an appropriate brine? We recommend choosing a winter seasonal reminiscent of the mulling spices in the holiday desserts we all love. You might as well chill down a couple of extra six packs to drink while you wait because juiciness takes time. You can expect a good, solid, 48-hour soak to ensure that your turkey is totally tipsy. Find the full recipe here.
2. White Rascal Turkey Stuffing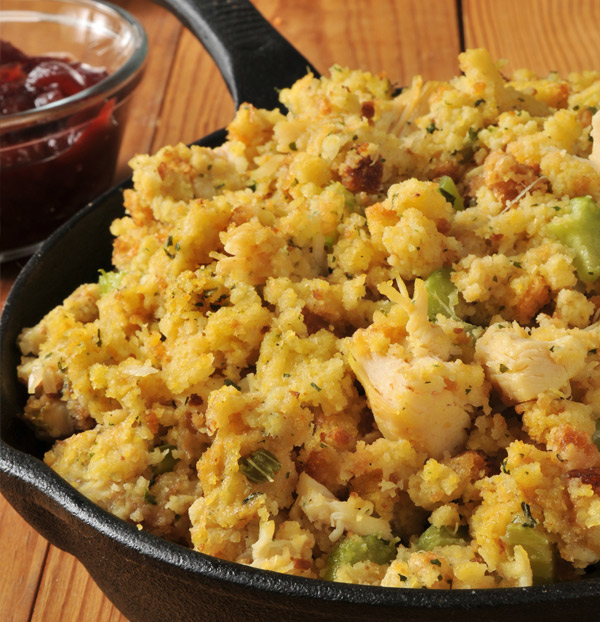 A perfect blend of crunchiness with sweet and savory flavors, this stuffing should go perfectly with your Tipsy Turkey. The witbier style adds the flavor of citrus so prevalent in holiday cooking. We're lucky to have had Avery Brewing Company share this easy way to amp up your Thanksgiving turkey with a special stuffing made from their White Rascal, a Belgian-style witbier. Find the full recipe here.
3. Ranger IPA and Basil Mashed Potatoes
New Belgium's Ranger IPA could not be better suited for this recipe. Again, you're not bound to choosing this beer, however, we do recommend using a beer with light earthy undertones alongside a modest herbal and floral flavor profile. Pro tip: Substitute buttermilk for milk to create utter decadence. Find the full recipe here.
4. Roasted Butternut Squash and Brussels Sprouts Tossed in Warm Bacon and Brown Ale Vinaigrette
Cruciferous vegetables and winter squash unite! Winter crops are some of the best and we'll always welcome the maltiness of a brown ale. This beer adds a bready flavor that satisfies a common craving during the holidays. The perfect autumn side dish: if the colors don't entice you, surely the caramelized squash aroma will! Find the full recipe here.
5. Beer Battered Green Beans with Tarragon Aioli
A sophisticated twist on green bean casserole, this crunchy yet fresh side dish is a must for your Thanksgiving table. I mean, technically, this finger food doesn't even need to make it to the table: the tarragon aioli for dipping eases hunger pangs for anxious family members while they await the main course. The pale ale in the batter is a plus, too! Find the full recipe here.
6. Lisa Morrison's Cranbeery Relish
A good lambic, just like a cranberry, is wonderfully balanced between sourness and sweetness. While a cranberry may not be palatable raw, cook it down on medium to high heat in the lambic, add a little sugar, and you've got spreadable deliciousness born for your Thanksgiving table, turkey sandwiches, and breakfast toast. Find the full recipe here.
7. Cheddar Beer Crust Apple Pie
If you're lucky enough to live near apple orchards this time of year, you're pretty darn lucky. Apple and cheese is a common pairing, but not many people venture out into the dessert realm. Think baked cheesy crust with warm, lager-soaked apple filling. Find the full recipe here.
8. Lakefront Pumpkin Lager Pie with Chocolate-Caramel Sauce
In a season where winter squash is worth celebrating and pumpkin pie is a must, we think you'll find this pumpkin beer-inspired pumpkin pie irresistible (whether you're a pumpkin beer lover or not). The mild sweetness of the pumpkin lager coupled with a light body ends up packing a lot of pumpkin flavor. Find the full recipe here.
* * *
Hailing from the South, Millie Shamburger (AHA administrative assistant) has developed an affinity for the beer industry and all the shiny things that come with it. When not exploring beer, Millie is cooking in the kitchen, enjoying the outdoors, or wearing out her dancing shoes.