Valentine's Day is a time to lavishly express affection for your significant other. Whimsical cards, over-sized teddy bears and heart-shaped everything are exchanged as tokens of love, while sipping champagne or wine over a romantic evening. All of this is fine and dandy, but why not break the Hallmark traditions and try something new? This year show your partner you find them divine by enjoying, or better yet making, the nectar of the gods—mead!
Desire: (verb) To long or hope for
Michael Fairbrother, founder and meadmaker at Moonlight Meadery in Londonderry, N.H., shared the recipe for Moonlight's Desire, their flagship sweet melomel. Described as an "enticing, complex blend of blueberries, black cherries and black currants," balanced with the standard honey characteristics, Desire pairs well with an assortment of dishes suitable for Valentine's Day.
"I enjoy Desire with duck confit, so I will likely have that for dinner; and possibly fine Belgian chocolates with a glass of Desire for desert," said Fairbrother. Italian foods (cheeses and saucy meat dishes) also complement the complexity of the sweet, fruit mead, which weighs in at 16.7 percent ABV.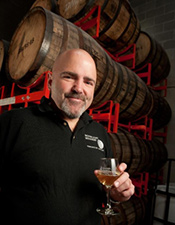 Desire began as one of Fairbrother's homebrew recipes. With the guidance of long-time friend and 2005 Meadmaker of the Year, Curt Stock, he perfected the recipe. Two years after the pilot batch, Desire earned gold at the 2009 New England Regional Homebrew Competition, overtaking 353 entries.
Acutally, two of Fairbrother's meads made it to the Best of Show (BOS) judging, and being a competition organizer, he had to leave the judging room. "When the BOS judging was over, someone came outside to tell me that I had won for Desire," Fairbrother explains. "I knew the final self-imposed stumbling block to going pro had vanished."
In May of 2010, Faribrother took the leap from hobby to full-time, commercial meadmaker by opening Moonlight Meadery under the motto "Romance By The Glass." Desire, amongst other Moonlight meads, is now available nationwide.
What's More Romantic Than Making Mead?
Michael Fairbrother was kind enough to share the recipe for five gallons of Desire along with a nutrient schedule to ensure quick, healthy fermentation. What could be more impressive and attractive than making your own "romance by the glass" with your loved one this Valentine's Day?
Ingredients for 5 U.S. gallons (18.9 L)
18 lbs (8.2 kg) | Wildflower Honey
5 qts (4.7 L) | Black Currant Juice
5 qts (4.7 L) | Black Cherry Juice
4 qts (3.8 L) | Blueberry Juice
1 tsp | Fermaid-K
2 tsp | GoFerm
0.35 oz (10 g) | Lalvin Narbonne Yeast (71B-1122)
Specifications
Approximate Original Gravity: 1.158
Target Final Gravity: 1.030
Directions
Combine honey and juices with enough water to bring total volume to five gallons. Mix well. Pitch yeast.
Nutrient Schedule
Combine the one teaspoon of Fermaid-K and two teaspoons of GoFerm to create a nutrient/energizer blend. Make sure it is well mixed. Add the blend using the following schedule. Make sure to hydrate and add VERY slowly:
3/4 tsp of the blend immediately after pitching the yeast
3/4 tsp of the blend 24 hours after fermentation begins
3/4 tsp of the blend 48 hours after fermentation begins
3/4 tsp of the blend after 30% of the sugar has been depleted
Fermentation
Ferment at 62°F(16.7°C). Rack to a secondary vessel after three months.
Listen and Learn!
Michael Fairbrother spoke at the American Homebrewers Association 2012 National Homebrewers Conference about his experiences making mead. Members have access to Michael's seminar, "Mead Excellence," as well as the rest of the presentations in the 2012 Seminars Members-Only page!
Make sure to give Berniece Van Der Berg's (Michael's wife), presentation, "Mead and Cheese Pairings," for more Valentine's Day ideas!