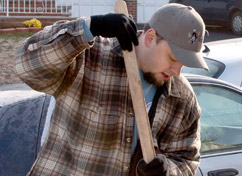 What got you brewing?
I'm just now starting to ramp up my personal brewing after my typical summer hiatus. Most brewers agree that it's a pain to brew during the summer when the tap water we use for chilling the wort down is a bit too warm. The last two brews I've focused on have been the WHALES club 120 gallon Framboise project which took a lot more preparation than a typical personal batch. I have definite plans to brew an IPA using Simcoe hops and a traditional Bock shortly afterwards.
When did you know this was no ordinary hobby, it was an obsession?
It was a potential hobby when my wife bought me a Mr. Beer kit as a gift in 2006 but I knew it was an obsession when I was converting a cooler to a mash tun and turning a freezer into a 5-tap kegerator only 5 months later. I think it's par for the course in this hobby. I think there are very few people that dabble in homebrewing. If you stick around long enough for a second batch, it's going to stick with you.
What is your "white whale" beer (the beer you'd hunt to the ends of the earth for, and possibly die trying to obtain)?
I'd have to say it's a toss up between Russian River Supplication and three New Glarus beers: Enigma, Raspberry Tart, and Belgian Red. Supplication is generally accessible if you drive to PA, but just hard enough to get to keep me intrigued. New Glarus on the other hand is only distributed in Wisconsin. You have to know someone to get it all the way on the East Coast.
What is your favorite local craft brewery?
If we limit it to brewpubs and think really locally, I'd say Triumph in Princeton is really solid having never regretted ordering a pint of whatever they have at the time. As for the others, I think a few head-brewer turnovers have been at least a temporary downfall. If we look at package breweries, it would have to go to Flying Fish. I've particularly enjoyed the exit series beers though I haven't been keeping track of which ones I've had.

Do you have a homebrewing disaster you'd like to share?
Most homebrewers would consider dumping a batch of beer that just didn't turn out right a disaster, and believe me, I've dumped a few, but the worst experience so far was having a bottle of homebrew explode when my wife moved it off a shelf. It was a beer I got from another homebrewer and it was probably bottled too early. Luckily she wasn't hurt but it definitely took the hobby down a notch in her eyes. Of course, it made the idea of buying kegs pretty appealing.
What is your favorite style(s) to brew?
American ales are my favorite to drink so that preference carries over to my brewing as well. Just about every other beer I brew is either an American Pale Ale, IPA, or Hoppy Amber. There will be times when I do a few back to back regional beers just because I like to propagate the yeast to save money. For example, an English Bitter might be followed by an English Barleywine.
What style(s) will you never brew?
None. I look at the overall palette of beer styles as a potential learning experience. I'm less likely to brew light Pilsners and German Wheat beers like Hefeweisen and Dunkelweisen because they are my least favorite to drink, but I probably will brew them at some point to see if I can.
What was the first beer you ever brewed? How did it turn out?
I'll skip over the Mr. Beer fiasco and say that my first proper kit beer was a pale ale based on Warrior hops. I remember thinking it was a good beer, at least good enough that I finished all 5 gallons of it. It's hard to say how it would hold up against my current view of a good homebrew 5 years later however.
Have you ever had a homebrew mistake that turned out great?
Last year I brewed an American Pale Ale and I had this last minute idea to add some fresh hop flowers out of my garden. Now, we usually add hops to the boil where any wild yeast that rode in would be killed. Alternatively, we might add hops to a beer after fermentation but just prior to packaging to impart fresher aroma (dry hopping) but the alcohol present usually protects the beer from infection. The mistake I thought I made was adding them directly to the carboy before fermentation occurred. I immediately pictured having to dump the batch in a few weeks but it was one of the best beers I've ever made.
What is your favorite recipe based off of a commercial style?
I've brewed the recipe for a Bear Republic Red Rocket clone twice now with only slight substitutions and it's definitely one of my favorites. Picture the malt flavor and color of an Irish Red with the hop character and strength of an American IPA. Good stuff.
Are you a BJCP Judge? If so, what is your rank and how long have you been judging?
Sadly I am not a BJCP judge. I take the BJCP seriously and respect the idea of critically evaluating beer in the most objective way possible. It's more a matter of time constraint than anything else. Anyone that is interested in taking the exam knows that it's very difficult to get scheduled. There are far more people interested in becoming a judge than open spots at the exams.
Do you have a favorite homebrew trick or gadget that you've found to make your beer better/brewing easier, etc?
The two best gadgets that I've employed and can't give up are my autosiphon and sight glasses. The autosiphon is a $13 device that makes starting a siphon extremely easy when you need to rack beer from fermenters to kegs, etc. The reason I really like having sight glasses installed on my vessels is so that I always know my liquid volumes without having to use a dip stick or run off the liquid into a bucket for measurement. It helps me throughout the all grain brewing process as well as monitoring my boil off rate in the boil kettle.

Describe your brew system.
My system is constantly changing because I view engineering as an integral part of my enjoyment in the hobby rather than just a means to an end. For now, it consists of three nearly identical 15 gallon converted kegs. Each one of them is held over its own natural gas burner and liquid transfer between them is accomplished with a pump. Heat maintenance during the mash is accomplished by firing the burner under the mash tun and recirculating the wort from the bottom back to the top. I don't employ any automation at this point but I plan to convert the entire system over electric heating in the near future.
How frequently do you brew (times per month or year)?
My brewing averages out to about twelve 5 gallon batches per year. I usually end up with a surplus of beer in this way because I don't drink much.
What is your favorite malt? Why?
My base malt stock is both German Pilsner and English Maris Otter. I feel like you can brew just about any style with these two on hand. The Pils covers Belgian and German styles and Maris is great for just about everything else. I find it to be pretty close to American 2-row but lends a slightly higher malt backbone flavor at the same quantities.
What is your favorite hop? Why?
I like most of the "C" hop varietals like Centennial, Chinook, etc. including Cascade which is my favorite. It has the classic citrus aroma indicative of American hoppy ales but I like the fact that the alpha acid% is relatively low. This allows you to load up on late additions for explosive flavor and aroma without over-bittering the beer.
Do you have a favorite or house yeast? What qualities do you like about that yeast?
I use WLP-001 from white labs more than any other yeast. I generally have a slurry of it saved in the fridge for whenever I need it. If I'm in a pinch, I'll use the dry version US-05. It ferments clean, attenuates well, and drops clear pretty quickly which is what you look for in an American Ale yeast.
Do you belong to a homebrew club? Have a good homebrew club story you'd like to share?
I'm in the Woodbridge Homebrewers Ale and Lager Enthusiast Society aka, The WHALES based out of Woodbridge, NJ. The club has been around since 1996 though I've only joined in 2007. You might say I enjoy being in the club because I'm running for president this month. Although homebrewing is becoming increasingly popular, it's nice to regularly meet up with 60 other people who share your obsession in a relatively obscure hobby.
Is there any advice you would like to give to new homebrewers?
Buckle up! It's going to be a bumpy ride. Seriously though, read as much as you can. Get on the internet and cruise the forums like Homebrewtalk.com and the American Homebrewers Association. Listen to podcasts like Brewstrong and Basic Brewing Radio. Join a local club and brew as much as you can. Also, have patience. As homebrewers, we can take our time and let the beer tell us when it's ready.
What is a beer style that is underappreciated and/or could take off given the opportunity and exposure?
Rauchbier. People love bacon and they love beer. Why choose?
---
Do you have a mentor or someone you think the world should know about? Or, tell the homebrewing community a little bit about yourself so we can get to know you! Post some background info on the AHA Forum under the Hombrewer Bios category, and that person may be selected as the next Brewer of the Week.
The AHA Forum is communications central for the homebrewing community. Draw upon the collective knowledge of homebrewers around the world to get your questions answered. Help out your fellow homebrewers with their questions.
Homebrewers Association
Homebrewers Association