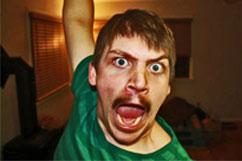 Who Are You: Casey P Goehl.
Home Town : Buena Vista, CO
Homebrew Club: Dead Fellows http://deadfellowsbrewclub.weebly.com/about-us.html
I've been a homebrewer since: June Sixth 2009
Do you have a homebrewing disaster you'd like to share?
On a warm day In the Rockies, I set out to bottle a fantastic tangerine common ale. As I carried the bucket from a kitchen counter top to a table in my little cabin. A rouge sandal jumped out from around a corner. Through the air all five gallons of liquid were sent to the shag below, The carpet still thanks me to this day.
What is your favorite style(s) to brew?
I enjoy brewing a red, or brown ale, but nothing beats a specialty beer of your own recipe.
What style(s) will you never brew?
I'll never brew what the guy next door has going.
What was the first beer you ever brewed? How did it turn out?
I brewed a honey brown ale for a friend's wedding. It turned out so well he ended up buying all the same equipement, and eventully founding a brew club with me.
Have you ever had a homebrew mistake that turned out great?
While brewing a stout I neglected to refridgerate a portion I had set out for bottling day. After de-green scumming the liquid, I boiled it and threw it in. I've been told It's better than the commercial version that inspired it.
What is your favorite beer recipe?
My favorite to brew is my holiday red ale. It's a great beer to brew and drink with families and friends when the nights get colder.
Do you have a favorite homebrew trick or gadget that you've found to make your beer better/brewing easier, etc?
I like to smoke my own grain. I find that an outdoor clay fire pit give a really nice aroma to the grain, but doesn't overpower the flavor in the beer.
Describe your brew system.
I'm using the stove top this should work where are my gloves pray I hit gravity system. I plan on moving to a sabco in the near future, but I'm happy for now.
How frequently do you brew (times/month or /year)?
I try to brew at least one a month, as a club we brew at least 20 times a year.
What is your favorite malt? Why?
I really like Munich. I think the profile is great, it goes in almost anything, and makes my mouth happy.
What is your favorite hop? Why?
Cascade. Fruity, earthy, clean. What else do you need?
Do you have a favorite or house yeast? What qualities do you like about that yeast?
Pacman is a favorite, You can't pass up anything from Mr. John Maier.
Do you have a good homebrew club story you'd like to share?
As an initiation for a new member we asked him to come up with a recipe and we would brew it. He gave it to us and we proceeded as any good brewers would. After it was finished we had him carbonate it on his own and take it home. A few days later I got a text asking if I would know why his spare room was covered in sticky black liquid. We had purposly left out a few brewing details. A 60% roasted malt, and 40% red wheat grain bill, carbonated with 1lb of cane sugar for 3 gallons was a bit rough.
Where Do You Want Brewing To Take You?
Like many other homebrewers, I aspire to work in the craft industry. Earlier this year I turned down an entry level job at Rogue. Rather than be discouraged, my hopes were actully lifted. I now know and can be confidant that I can get work within the industry.
If you could serve your homebrew to someone famous, who would it be and what would you give her/him?
Hellen Keller. With her heightened sences of smell and taste, I think she would be great asset to a brewer.
What's the most unusual ingredient you've ever used in a brew?
A few years ago I picked and brewed a spruce tea for a holiday beer. A great beverage on its own if you get a chance.
Do you have any pets or kids named after beer styles or ingredients?
My wife isn't too keen on the idea, but I have faith that soon a little hallertauer or spalt will grace my home on two or four legs.
Do you brew alone, with friends or with someone you live with?
I try not to brew alone. Having friends and family involved is always a great pleasure for me.
Are you an indoor or outdoor brewer?
As of now I am indoor brewer, I do have a campfire beer ready for the summer months. Bugs, dirt, pollen. What a fantastic brewing experience.
List some of the names you've given your beers. Which is your favorite?
AngRye Beaver, Beggers Stout, Boom Stick Brown, Charlie P Hefe, Stille Natche.. I'm partial to AngRye Beaver for obvious reasons.
Homebrewers Association
Homebrewers Association