This edition of Brewer of the Week features Colorado transplant Chris Love. Homebrewer, BJCP instructor, guitarist, and martial arts enthusiast, Chris is as well rounded as he is traveled. Cheers, Mr. Love!
Home Town: Currently, Brighton, CO, previously San Jose, CA. I grew up outside of Chicago, IL, born in Baltimore, MD
I've been a homebrewer since: 2002
Do you have a homebrewing disaster you'd like to share? Fortunately, none have been a complete disaster, but I have had a few oopses. I believe it was in January, this year. I had the wort chiller in the kettle and the hose attached. The kettle was on the shelf, uh brewing stand… and apparently it wasn't all the way on, so I came back and it had dumped all over the garage – I managed to save some of it, but not all… Also, I experienced a pre-brewing disaster… I was making a sparkling mead for my friends wedding. I had 30 pounds of honey in the trunk of my car. Apparently, the tops were not on the containers too well and it was a 60 mile trip home from the store. They had fallen over in the trunk and a few lids popped off. So I wound up with 15 lbs of honey all over my trunk. Cleaning that up was a royal pain. I was pulled over a few weeks later (for driving too fast) and the cop thought I was drunk (it was 7AM) as the honey that I wasn't able to clean up had started to ferment so the entire car smelled of alcohol.
What is your favorite style(s) to brew? I really don't have a favorite, my process is basically the same no matter the style.
What style(s) will you never brew? Smoked beers and spiced beers – those winter spice cabinet brews (ginger, nutmeg, ginseng, clove, cinnamon, lemon, pumpkin beers) that I used to get stuck judging. Sorry, not a fan.
What was the first beer you ever brewed? How did it turn out? The first was probably some wheat beer kit – apparently it came out ok – as I was hooked. Then came the strawberry honey ale, and the chocolate raspberry stout (which is still my mom's favorite – not quite the generation I was going for though). I was in a phase to make the highest-gravity-whatever-I-could and have it be drinkable, now I just make what I feel the inspiration for at the time.
Have you ever had a homebrew mistake that turned out great? Not that I can recall, whatever it was it was always intentional (wink wink nudge nudge)
What is your favorite beer recipe? I don't really have one – I like most everything.
Are you a BJCP Judge? If so, what is your rank and how long have you been judging? Yes, Certified. I took the exam on July 17, 2004. Judged my first competition on July 31, 2004.
Do you have a good beer judging story you'd like to share with the rest of the homebrewing world? I was a judge for the West Coast version of the Samuel Adams Longshot Competition in 2007. I was living in CA at the time and was into the brewing scene pretty heavy. I had been the judge organizer for NHC and had done a bunch of other competitions out there as well. John Watson and Jamil Zainasheff and a few others had organized the Longshot competition at this fancy hotel in San Francisco. I figured, sure, I'll judge that. If you judged both days they put you up in the hotel for the night and pretty much everything was covered – parking, food, beer parties, room, etc. It was a lot of money to shell out for all the judges to be put up at this place. I put my name in to judge and that was pretty much how I got in. Judging – I think I did three flights – two the first day and one the second. John and Jamil ran this very smoothly. We went through 100s of entries and we were done early on the second day. I'd say they did a great job getting it together. I believe I got spice or experimental beers and I think stouts the first day. I don't recall what I had the second day. There were some great entries. After judging they had a fantastic dinner for us, with all the Sam Adams you could want. I believe after dinner we went to the Toranado for a few pints. The second day we got breakfast and then did some judging. I assisted/stewarded with the Best in Show competition by pouring the beers and helping the judges get situated. If I recall correctly, Mike McDole won with an IPA – which was of course fantastic. All in all, it was a lot of serious judging and a lot of fun. So, get BJCP certified (take my class – shameless plug :) and start judging. Not only will it help your brewing, you get to do some very cool stuff from time to time.
Do you have a favorite homebrew trick or gadget that you've found to make your beer better/brewing easier, etc? I never do a secondary – easier and less opportunity for contamination, otherwise I am pretty standard. My process may be a bit unusual, but I think that has to do with not liking to measure a lot. I do have some innovations as do all brewers to some extent.
Describe your brew system. I have a few, but they are all coolers – either 5 or 10 gallon Igloo type. Some have brewmometers, others have a port for an electric thermometer probe. I use a bazookatube in the 10 Gallon and perforated steel domes in the 5 gallons. My original all grain setup was bought used from John Donehower, the head brewer at Pyramid Brewing in Walnut Creek, CA many years ago – I still use it today.
How frequently do you brew? I brew as I need to. I have four kegs on tap at all times. One is a Cyser that people go crazy for. The other three rotate out as needed.
What is your favorite malt? Why? Munich – It just tastes great.
What is your favorite hop? Why? Amarillo (aroma and flavor) – love that citrusy thing it has and Galena (bittering) it's clean and it powerful.
Do you have a favorite or house yeast? What qualities do you like about that yeast? I don't really have one – it depends on the style I am brewing as to what I use.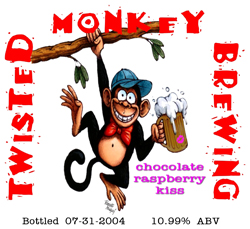 What haven't we asked that you would really like to answer? People may know me as the Brew Monkey. I started in 2003 and it became quite popular. It's died down yet still receives over 100K hits per month, mostly for recipes or info on brewing. I also teach BJCP exam prep classes.
If you could serve your homebrew to someone famous, who would it be and what would you give her/him? Hmmmm… I have actually, and every time they come through town they get more. Other than the Nadas… Zakk Wylde from Black Label Society and Ozzy, Eliza Coupe, Nadine Velazquez – ah hell, anyone who wants it.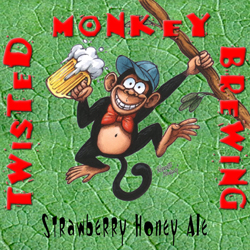 Can you send a picture or two of some labels you've created for your homebrew? Some were probably copyright issues, so I didn't include those – but the ones I found I included. (twistedmonkey and chocraspkiss).
What's the most unusual ingredient you've ever used in a brew? Saffron
How many medals have you won from homebrew competitions? A few Firsts, a few Seconds and some Thirds. I don't enter much anymore since becoming a judge. I brew for me, not for a competition.
Do you brew alone, with friends or with someone you live with? I used to brew with a friend in CA, but I mostly fly solo these days.
Are you an indoor or outdoor brewer? Outdoor. I started inside when I was doing extract, but a full boil on a stove is either difficult or a big mess.
List some of the names you've given your beers. Which is your favorite? Porterus Robustus, Weissenheimer, LPR, Dirty CA blonde, Sir Hoppenstein, mostly I just call them what they are – Cyser, Porter, Oatmeal Stout, Amarillo Wheat – yeah I know, boring.