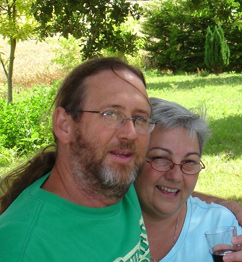 Name: Corky Stewart
Home Town: Carlsbad, NM
Homebrew Club: Basin Brewers of Midland/Odessa Texas
I've been a homebrewer since: 1992s
Do you have a homebrewing disaster you'd like to share?
I had to be at a birthday party for my boss at 2 p.m. so I started early on 10 gallons of wit. Five minutes before flameout, I added one ounce of dried orange peel and I started to chill. The little chunks of peel swelled up so big that it plugged the the counterflow chiller, the pump and finally the spigot on the kettle.
I had to remove all the wort with a saucepan and strain it into another pot to get all the peel out, then back-flush everything. By then the ice for my pre-chiller was melted, so I had to go to the store and buy more ice. I finally pitched the yeast and left the two buckets with blowoff hoses in the garage, and went to the party an hour late. Four days later, I replaced the blowoff hoses with airlocks so I could use them on another batch. The next day I happened to look in the beer room and both buckets had blown their lids. The beer did turn out excellent eventually.
What is your favorite style(s) to brew?
I have a split personality here. I love simple ESBs, stouts and porters, but also Brett, sour and smoked beers.
What style(s) will you never brew?
I can't think of anything I would never try.
What was the first beer you ever brewed? How did it turn out?
It was probably a stout or pale ale made from a no boil, pre-hopped can of Coopers extract and 1.5 pounds of corn sugar. I'm sure it was nasty, but I loved it.

What is your favorite beer recipe?
Belgian Ball Buster (10 gallons)
26 pounds Pilsner
4 pounds Munich
2 pounds wheat malt
1.75 pounds Special B
1 pound Caravienne
3 ounces Hallertau (4.6 AA) for 60 minutes
2 ounces Tettnanger (5.4 AA) for 20 minutes
At flameout, add one pound of Belgian candi sugar
Mash at 148°F for 90 minutes. Chill to 60°F. Pitch White Labs WLP 530 and let the temp rise to 65°F. As fermentation slows, let the temp creep up until it has completely fermented. OG should be between 1.082 and 1.090, FG around 1.020.
Do you have a favorite homebrew trick or gadget that you've found to make your beer better/brewing easier, etc?
My adjustable sparge ring that fits inside my converted keg mash tun. It's made of half-inch soft copper with holes drilled all around the sides and bottom. The unique aspect is the three heavy copper wires soldered to the ring that I bend over the lip of the mash tun to adjust for the height of the grain bed.
Describe your brew system.
Three-tier propane with a pump to recirculate the wort through a counterflow chiller and old immersion chiller sitting in an ice bath. I mostly use the 12-gallon conical my wife gave me, but I also still use my original buckets and carboys for extended secondaries.
How frequently do you brew (times/month or /year)?
About every three weeks.
What is your favorite malt? Why?
Maris Otte is what I brew with most often.
What is your favorite hop? Why?
Fuggles, I don't really know why.
Do you have a favorite or house yeast? What qualities do you like about that yeast?
I use a lot of Nottingham because I like to ferment in the 58-62°F range, and Nottingham works very well for that. But for any special beers like wits, saisons or lagers, I get more specific yeasts.
Homebrewers Association
Homebrewers Association