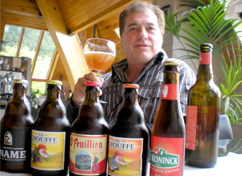 Hood River, Oregon
David began brewing beer at home in 1978. It was while in college that brewing beer became of interest. There were a couple of reasons for this. One was because of a major in Food Science & Technology, where he was doing a lot of fermenting in the lab. After making sausages, sauerkraut, cheeses, and bread, he thought, why not make beer too? The other reason was being a college student . There wasn't a lot of extra cash for beer, let alone the good stuff.
So, home brewing became a hobby which paved the way to an exciting and adventurous career. While still in college, microbiology became a course of great interest. So much so, a part time job learning to maintain the bacteria and yeast cultures for the department proved to be a valuable experience. It was at that time the realization of using pure brewing yeast in his homebrew made a remarkable improvement in the quality of the beer.
Homebrewing became quite a consuming hobby in many respects. Eventually, improvements in the brewing equipment were necessary. Soon he found the centerpiece of his brewing system in a restaurant equipment supply store basement. It was a 1940's circa stainless steel army coffee maker, never used. David converted it into a mash/lauter tun complete with a controllable heating jacket, V wire false bottom, sparge arm, and with two draw ports at the base. All but the V wire were already part of the unit. The V wire came from a good friend, Kurt Widmer. He had returned a favor for some help with yeast culturing for the first beers brewed at Widmer Brothers Brewing Company. The mash tun was coupled with a converted half barrel keg on a burner with a submersible wort chiller.
By the early 80's it was a couple of road trips to Boulder for the AHA Homebrewers Conference, Craft Brewers Conference and Great American Beer Festival all rolled into one little event. It was around that time that David entered his first home brew competition and made his biggest homebrewing mistake. The competition instructions called for 'attaching' a label to each bottle. So he did, with glue. Needless to say, there was no award for that entry. The beer was judged however, and the notes came back stating "would have been best of show". David's heart sank with a costly lesson learned. As for the competition, the instructions have since been changed and clarified.
In spite of the injustice he felt, brewing remained a passionate hobby though the desire to compete was lost. Instead David focused on the joys of homebrewing as he experimented with more and more different yeast strains. So much so that starting a yeast business propelled his homebrewing far beyond anything imaginable.
Wyeast Laboratories opened in 1985. David became consumed by homebrewing instead of consuming a lot of homebrew, a hobby turned career. Not only did homebrewing give him a golden opportunity to start his business, it also gave him the confidence to start a commercial brewery. Word of some folks planning to open a brewery in town had David looking them up and signing on as brewer and a founding partner. Soon thereafter Full Sail Brewing Company opened in Hood River, Oregon.
There David's seven years of homebrewing experience really paid off. Even though he had worked in the lab quite a bit by then and felt confident with that, brewing beer for sale was quite an experience, and a good one. By 1989 Full Sail entered the Brown Ale and Amber Ale into the Great American Beer Festival and won a couple of medals! Since he didn't go to Denver that year, David still hasn't made it to the big stage, and maybe never will. David retired from professional brewing after that. Since homebrewing had really caught on, all over the country, he was again consumed by the hobby.
Homebrewing has allowed David to express his creativity in many ways, though at times the success of the hobby has kept him from brewing as often as he wanted. Fortunately, over time, that has come full circle. Today, now retired from the commercial side of the hobby, David has time to brew the beers he wants. So with a few oak barrels that need to be refilled with Lambics and a Flanders type red and his fridges rapidly being depleted of Saisons and a variety of other homebrews, he now has time to enjoy a great hobby again. Time to brew, and to share with a few good friends!
Homebrewers Association
Homebrewers Association