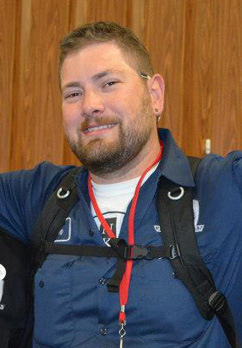 Name: Jon Covey
Home Town: Hebron, KY
Homebrewer since: 2007
AHA Member since: 2012
Homebrew Club: Northern Kentucky (NKY) Homebrewers Guild
How/why did you get into homebrewing?
I started homebrewing about five years ago. My co-worker, Eddie, and I had gotten into craft beer a few years earlier and had tossed around the idea to try our hand at brewing our own. One day his dad, who used to brew, gifted his equipment to us after Eddie had mentioned that we wanted to give it a try. I whipped up an IPA recipe, went to a local homebrew supply shop a few days later, and off we went.
Do you have a homebrewing disaster you'd like to share?
Oh yeah. My wife and I had a small private wedding in a cabin on a mountain. I brewed the old trusty IPA and a Dunkelweiss as the beer for our wedding and packed the four cases of homebrew for the five hour trip for my guests to enjoy. When we opened the first bottle of the Dunkleweiss the day before the wedding, it had a distinct vegetal aroma and taste. Luckily the IPA was great but we dumped every bottle of what will always be known as the "broccoli hosewater beer." Sanitize, sanatize, sanatize!
What is your favorite styles to brew?
American ales, porters and stouts typically, but pre-Prohibition styles and off-the-wall ales intrigue me.
What was the first beer you ever brewed? How did it turn out?
It was a partial-grain original recipe IPA. Everyone who tried it said it was one of the best beers they had tasted (friends are so nice). It fueled the fire to continue brewing to have a success off the bat. I still brew a derivative of that recipe. In fact, the IPA I brewed for my wedding was almost an identical recipe to my first ever batch.

Are you a BJCP Judge? If so, what is your rank and how long have you been judging?
Yes, certified. I have been judging since April 2012.

Do you have a favorite homebrew trick or gadget that you've found to make your beer better/brewing easier, etc?
The hop spider
Homebrewers Association
Homebrewers Association