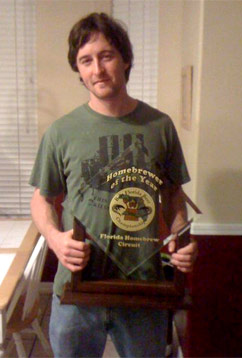 Name: Josh Brengle

When did you know this was no ordinary hobby, it was an obsession?
I probably realized how passionate I was about homebrewing sometime after jumping into all grain. I wasn't just mixing ingredients anymore. I was making decisions that were detrimental to the final outcome of the beer.

When did you join the AHA?
I joined the AHA in 2008.

What is your "white whale" beer (the beer you'd hunt to the ends of the earth for, and possibly die trying to obtain)?
I could go for an unfiltered Pilsner Urquell right now.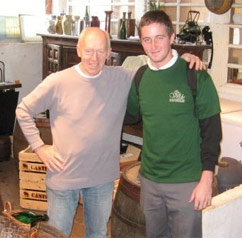 What are your favorite craft breweries?
My favorite craft breweries are Russian River, Pizza Port, Sierra Nevada, De Dolle, Cantillon, and Cigar City.

Do you have a homebrewing disaster you'd like to share?
I recall brewing a gluten free beer for a friend with celiac disease. I put some effort into the brew day and the beer came out pretty damn good. I tapped it on a jockey box which was one hose clamp short of being completed. When we opened up the cooler/jockey box we realized why the beer wasn't pouring. The hose was disconnected and already spewed the entire 5 gallons into a disgusting mess of ice and debris that was inside the cooler. Since we were on a camping trip and that was our only beer, we poured the beer back into the keg and attempted to drink the now watered down swill. Always use hose clamps!

What is your favorite style(s) to brew?
I genuinely enjoy brewing all styles. I like the challenge of lagers and the patience needed for sours. I really enjoy brewing and drinking session beers such as milds, bitters, Berliners, and low gravity APA's.

What was the first beer you ever brewed? How did it turn out?
My first beer was a Mt Mellick 'Irish Stout' pre-hopped extract kit. The beer tasted great to me at the time. I'm sure I would have a hard time finishing it now.

Have you ever had a homebrew mistake that turned out great?
I recall a mild that accidently fermented in the low 50's. Surprisingly, ended up pretty phenomenal.

What is your favorite recipe based off of a commercial style?
I've been known to brew a Pliny the Elder clone occasionally.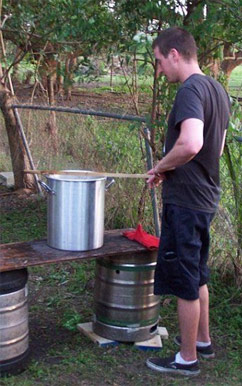 You said you brew a Pliny the elder clone occasionally, have you tried Pliny the younger?
The Younger has eluded me for years now. One day…one day….

Congrats on the recent medal, what made your beer special and what would you contribute your success to?
Like most lagers, I think a Czech Pils is all about fermentation. I would say that using fresh ingredients and RO water helped the beer come to across as authentic. I also tried to really focus on packaging.

Describe your brew system.
My system is very simple and archaic. In fact, people usually laugh when they see it. Cooler system with one kettle, one burner. There is a lot of duct tape and paper clips involved. It is a huge piece of crap. I really just try to focus on fermentation and packaging.

How frequently do you brew (times per month or year)?
I brew everyday. Literally. I work at a brewery.

What is your dream beer and food pairing?
Cheese and Gueze.

Do you have a favorite or house yeast? What qualities do you like about that yeast?
For British styles, I like Wyeast London Ale 1028. For Belgians, I like Wyeast High Gravity Trappist 3787 (Westmalle, Westvleteren). For lagers I like Wyeast 2206.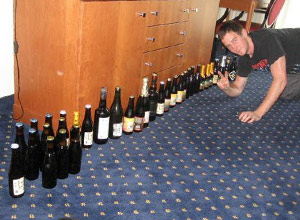 Do you belong to a homebrew club? Do you have a good homebrew club story you'd like to share?
I have been president and VP of the Central Florida Homebrewers. I will be a member for life. I am also a member of Brewers Gathering.

If you had to choose from a list what type of brewer are you?

Artistic renaissance man

Redneck moonshiner

Scientist

Dude who likes beer
Dude who likes beer. But, I would probably say that I've worn all of those hats at one time or another. In the end, it's all about enjoying the hobby and the people you meet. We're all nerds at the core.

Is there any advice you would like to give to new homebrewers?
Keep it fun and original but don't waste your time. Try to make the best beer you can and make sure pay attention throughout the entire process. Read and learn from everyone around you. Regardless of how you feel about competitions, they will make you brew better beer.
Homebrewers Association
Homebrewers Association