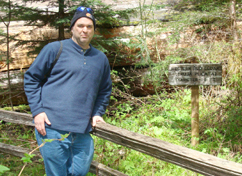 AKA "Metal Larzz"
What inspired you to start brewing?
I saw some guys brewing at a party WAY back around 1982 and I was intrigued to say the least. A year or so down the road I read an article about home brewing in the local newspaper that I took with me to Germany while serving in the US Army (1985-1988). During my time in Europe, I began to get a taste for "different" beers and decided that brewing my own beer was something that I eventually wanted to do. It took me awhile to finally get to brew for myself, but finally in 1996 it happened…I bought Charlie Papazian's "The Joy of Homebrewing", a brew pot, and a plastic bucket kit… the rest became history!
When did you know this was no ordinary hobby, it was an obsession?
Almost immediately. While at first homebrewing was challenging, I was having a lot of fun with it at the same time. I didn't get into brewing to compete but I do partake in a few contests a year. Having the honor of winning a few awards along the way has certainly solidified my obsession.
What kind of awards have you won?
I've been fortunate to take National Homebrew Competition regional 1st place in 2004, 2007 and 2009 as well as 3rd place in 2006. I have also won the Ohio State Fair First Place in 2006 (Weizenbock) and 2009 (X-mas Ale).
What is your "white whale" beer (the beer you'd hunt to the ends of the earth for, and possibly die trying to obtain)?
I want to get back to Germany and drink Andechs bock beer (the DARK stuff!). There is truly no other beer like it on Earth.
What is your favorite local craft brewery?
Great Lake Brewing Company in Cleveland, though Willoughby Brewing deserves a shout out as well.
Do you have a homebrewing disaster you'd like to share?
I used to brew a lot at night hour, and I think just about everyone has partaken in a few too many during a brew session …ahem. Anyways one night I was "thinking right" and poured the recently boiled wort directly into the glass carboy without cooling it first. These days, I like drinking coffee while I brew first thing in the morning.
What is your favorite style(s) to brew?
Hefeweizen (my standard favorite while stationed in Germany) and my Christmas Ale. A nice hearty porter is always a good call too.
What style(s) will you never brew?
Never say never!
What was the first beer you ever brewed? How did it turn out?
My first brew session was September 27, 1996 and it was a kit German Altbier. I was skeptical and unsure of it at first, but my notes indicate that my 3 best friends sucked it down quick and loved it. The beer was gone before Thanksgiving so it must have been good.
What is your favorite recipe based off of a commercial style?
I have a Paulaner Hefeweizen clone-recipe that I've tweaked, and tweaked, and TWEAKED but I finally have it down. I suppose Paulaner is as "commercial" as Hefeweizen can get. My second favorite clone has to be my Sam Adams Boston Lager clone.
Do you have a favorite homebrew trick or gadget that you've found to make your beer better/brewing easier, etc?
I recently bought Brew Balls (which were recently featured in Zymurgy) for gravity readings. As one who is deficient and lax in this area, they were a nice addition to the process. I am impressed with the product! I just need a few balls made to read around the 75, 95 and 105 levels.
Describe your brew system.
I'm awfully, awfully basic…my mash system is two converted igloo coolers, I have a camp burner in my garage to boil and I cool with a copper hose system fermenting into a 6.5 gallon glass carboy. Not a bell or a whistle anywhere around. Well, I do have a digital thermometer to read mash temps
Any activity that is essential to your homebrewing process?
I'm usually cranking the Sirius/XM Satellite radio when I brew and will listen to Howard Stern, Liquid Metal, Octane or the Bone Yard.
How frequently do you brew (times per month or year)?
I probably make six to eight batches a year, and tend to brew more in the winter months. My fermentation closet is a nice, constant 64 degrees in the winter and bumps to around 72 in the summer.
What is your favorite hop? Why?
Magnum. I use them in a variety of recipes and they are just nice, clean and have that bite.
Do you have a favorite or house yeast? What qualities do you like about that yeast?
I use a lot of different ones but here's to Wyeast Chico yeast….SALUTE!
Homebrewers Association
Homebrewers Association