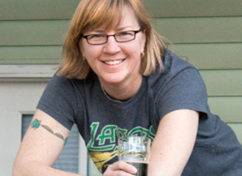 Who are you?
Leah Dienes from Louisville, KY, a member of the LAGERS (Louisville Area Grain Extract Research Society) homebrew club and & the FOSSILS (Fermentators of Special Southern Indiana Libations Society) homebrew club. I've been homebrewing since 1994.
What is your favorite style to brew?
I'm known for wheats and stouts but lately have been on a mission to brew all of the styles in the BJCP guidelines. I like to experiment a lot too, so I have fun with specialty beers. I've also made mead and have "brewed" one batch of sake which turned out great.
Have you ever had a homebrew mistake that turned out great?
My favorite story is from our Women's Brew-in. One of my friends and I made a Peach Wheat (American style wheat beer) for our two local Homebrew Clubs' yearly picnic/campout. It never got on tap, so it returned to her garage where it sat for a year until I asked about it at the following year's Women's Brew-in. Being the adventuresome sort, I popped a picnic tap on the keg and tasted it. Wow! No off-flavors with a "Belgian" twist. That keg went on tap for the ladies as "Belgian Surprise" and we drank all five gallons that day.
Describe your brew system.
I have a homemade PVC manifold in an ancient cooler and have recently upgraded to the "Denny-brew" stainless mesh braid (and no, I didn't use a hatchet to cut the ends off of the hot water hose like he said he did in his talk at the AHA Conference ;)] in a newer, larger cooler. I also have two converted kegs for hot water and boiling and a counterflow wort chiller. I'm fortunate to have a dirt floor cellar that keeps the temperature constant during the warmer months to ferment my brews. In cooler months I have to get creative and either have a carboy wrapped in a blanket over a heater or in a water bath in my bathroom (the smallest and warmest room in my house). For lagers I have an old fridge I made into a Kegerator with a temperature controller. I also grind my grain with a Monster Mill and would like to eventually motorize that, but I just hand crank it for now.
Do you have a good homebrew club story you'd like to share?
My first Homebrew Club meeting with the LAGERS. A big group was meeting at a local deli downtown. I showed up with my father and a friend to see what this club was all about. Everyone was really nice and friendly, drinking beer, etc. All of a sudden, two cigar-smoking women stuck a jar of homemade pickles in front of my nose asking if I wanted one and if I wanted to buy some raffle tickets. I turned to my dad and said, "What kind of group IS this?". Then I just smiled and had another homebrew!
What got you brewing?
I was a bartender and my bar manager had bought "The Joy of Homebrewing" and brought in his first attempt. He thought I'd be interested in the hobby and suggested I get the book and give it a try. I did…and I'm still doing it!
Can you send a pic or two of some labels you've created for your homebrew?
Sure, these two labels were in the magazine "Brew Your Own" for their label contest and I also made a T-shirt out of the PMS Ale design. The first day I wore it I had two different guys I didn't even know offer to buy it from me to give to their girlfriends.
Do you have any pets or kids named after beer styles?
Yes, I have a flat-coat retriever named Barley—more like "roasted barley"!
How many medals have you won from homebrew competitions?
I've won bunches of medals, ribbons, plates, glassware, hats, etc. I feel fortunate when I receive an award because I know what goes into the judging process, and it can go for you—or not in any given competition. Plus, there are some really great homebrewers out there!
List some of the names you've given your beers. Which is your favorite?
I've always liked "Hoppin' Honey Pale Ale" but "Hillary's Bitter" gets the most laughs.
Homebrewers Association
Homebrewers Association