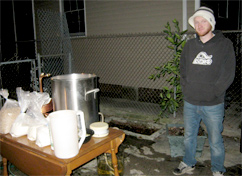 Matt Green
New Orleans, Louisiana
I've been a homebrewer since:
March 2007
Why did you join the AHA?
To expand my brewing knowledge, get pub discounts and to attend rallies (Saint Arnold's on Feb. 27th). Also, to have a community of fellow brewers at my back every time I fill a bottle or even drink one.
What got me into homebrewing?
I had seen several shows and spotlights on homebrewing and was curious about the possibilities of it all. The one show that stands out to me was the "Good Eats" episode on homebrewing. I found a homebrew shop in Chicago that I could ride my bike to and bought The Complete Joy of Homebrewing by Charlie Papazian and it took me about a month to read through it. I had long been a fan of craft beer and wanted to save some money by making my own, being a college student at the time.
What was the first beer you ever brewed? How did it turn out?
My first batch was a Cream Ale kit from Brewer's Best. I loved it, my roommates loved it, and I was hooked!
What is your favorite style(s) to brew?
I brew almost entirely ales. These are fairly evenly spread between American, English, Irish, and Belgian varieties. In the almost four years of homebrewing, I have only repeated a few recipes. When it comes down to it, my favorite style could be defined as "experimental."
What is your favorite beer recipe?
My favorite is an ever-evolving recipe for Vanilla Cream Ale. It is a session-style beer that is basically a Blonde Ale with an ounce of vanilla added at different stages.
Have you ever had a homebrew mistake that turned out great?
My first Double IPA turned into a Belgian Double IPA. I relaxed and had a few too many homebrews on brew day, causing me to skimp on sanitation a bit. The Belgian yeast from a previous batch survived the rinsing of the carboy and put the brew into a whole different direction than intended. I was lucky it turned out so good, and I have been trying to recreate it ever since.
What style(s) will you never brew?
Never? I didn't think I would ever brew an American Pilsner, but I did just that a month ago. This brew was then dyed green for St. Patrick's Day in order to have a "festive" beer for some of my friends with close-minded drinkers as far as the world of beer goes.
Do you have a homebrewing disaster you'd like to share?
I once made the mistake of not measuring the gravity of a beer before bottling. As it turns out the fermentation was far from over. With the added bottling sugar, I had bottles exploding for several days while I was out of town. I came home to a sticky, glass-laden mess all over my kitchen. I made an attempt to salvage what I could, but ultimately opened the rest of the bottles in the back yard (some of which sprayed several feet in the air). I look back on this with a smile and am very happy for the lesson in patience.
Is there any advice you would like to give to new homebrewers?
It is truly a less daunting task than a lot of brewers make it out to be. Making sure everything is clean is the only part to stress at all about. Beyond that, it's throwing a bunch of stuff in a pot, boiling it, cooling it, and letting it sit around a lot. Starting out, there is no need to make an exact clone recipe. Start simple with a brew kit and learn as you go.
Are you a BJCP Judge? If so, what is your rank and how long have you been judging?
No, but I would like to be one.
Describe your brew system.
I use a 12 gallon kettle on a Top Tier floor burner for 5 gallon batches. I use 3 carboys, and an immersion chiller – outdoor-guerrilla-style brewing at its best.
Do you have a favorite homebrew trick or gadget that you've found to make your beer better or brewing easier?
I've recently started brewing all-grain beers on a single 12 gallon kettle. This is inefficiently accomplished by using my bottling bucket to hold the wort for a few minutes while I clean the grains out of the pot.
How frequently do you brew?
I've been brewing pretty much 2 per month for the last year.
What is your favorite malt? Why?
Roasted barley. I love the toasty, biscuit-like flavor it adds to even the simplest of brews.
What is your favorite hop? Why?
Willamette, Mt. Hood and Cascade are the three. All are versatile and light on the tongue with an impeccable aroma and flavor. Not to say Chinook or Simcoe don't make an amazing IPA either.
Do you have a favorite or house yeast? What qualities do you like about that yeast?
California Ale, Pacific Ale, or Euro Blend are used in most of my beers because they let both malt and hops shine. Belgian varieties are my favorite to play around with, and I am currently fermenting one with Belgian Ardennes and a lambic blend porter.
If you could serve your homebrew to someone famous, who would it be and what would you give him/her?
I would share my Vanilla Cream Ale with Charlie Papazian. It is from Mr. Papazian's books that I learned how to brew. It would be the least I could do to give thanks for such an influential person in my life.
Do you have any labels you've created for your homebrew?
No cool labels to date, I use name tags. "Hello My Name Is Jumpin' Juniper"
What's the most unusual ingredient you've ever used in a brew?
A twig from my next-door neighbor's live oak tree fell in my kettle a few weeks ago. It should add some good ol' southern twiggy-ness to my Oatmeal Stout!
Do you brew alone, with friends or with someone you live with?
I've recently convinced two of my friends to start brewing, so they usually come over to help out, and likewise with them when they brew. I live with my girlfriend, who I have brewed several ciders, meads, and gruits with. She loves when I make IPAs so she can get a smell of every bit of the hops before they join the boil.
List some of the names you've given your beers. Which is your favorite?
Some of my favorites include: Easy-Peasy IPA, WhyNottaWryRye, Jumpin' Juniper, Bottled Buddha, Red Raven and Devil. Angry Belgian Imposter is my favorite name, it is a 10-11% honey-brown Belgian that really sneaks up on you and knocks you over.
---
Do you have a mentor or someone you think the world should know about? Or, tell the homebrewing community a little bit about yourself so we can get to know you! Post some background info on the AHA Forum under the Hombrewer Bios category, and that person may be selected as the next Brewer of the Week.
The AHA Forum is communications central for the homebrewing community. Draw upon the collective knowledge of homebrewers around the world to get your questions answered. Help out your fellow homebrewers with their questions.
Homebrewers Association
Homebrewers Association