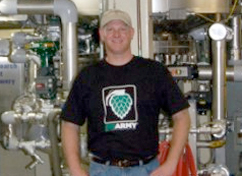 This week, for BOTW, we get a little peek into the life of Mike Brown. Mike and his brother, working together, won the Washington Homebrewer of the Year Competition last year as well as their local comepetition in honor of craft brewing pioneer Bert Grant.
Who Are You:
Mike Brown
Home Town:
Lynnwood, WA
Homebrew Club:
Cascade Brewers Guild and Washington Homebrewers Association
I've been a homebrewer since:
1999
Do you have a homebrewing disaster you'd like to share?
Let's just say don't try to go over a baby gate holding a 6 gallon carboy of beer, your next trip (pun intended) will be to the emergency room so that a doctor can stitch up your knee. I did save the beer!
What was the first beer you ever brewed? How did it turn out?
Alaskan Amber Clone Kit. Not bad, years later, due to poor sanitation, it evolved into a nice Oud Bruin.
Have you ever had a homebrew mistake that turned out great?
Currently, I have a nice Cal Common on tap that we made from uncrushed grain. We achieved a 30% efficiency compared to the expected 83%, so we had to improvise with some DME and backing off on the hop bitterness.
What is your favorite beer recipe?
Oak-aged Strong Scotch Ale.
Do you have a good beer judging story you'd like to share with the rest of the homebrewing world?
This year I organized my first competition, the Cascade Brewers Cup. At that time it was the largest homebrew competition ever in the state of Washington.
Do you have a favorite homebrew trick or gadget that you've found to make your beer better/brewing easier, etc?
My brother designed a PVC spray ball for fly sparging that is fun to watch and works well too.
Describe your brew system.
2-Tier Converted Sanke keg system
What is your favorite malt? Why?
Maris Otter 2-Row. It adds that extract something to many of the beers we brew.
What is your favorite hop?
Magnum. It's clean and high alpha, so it's very economical.
Do you have a favorite or house yeast?
WYeast 1056. It's so versatile.
Do you have a good homebrew club story you'd like to share?
For the past four years our club has put on an event called the ExBeerience. We invite local breweries to pour beer, we announce the winners of our competition the Cascade Brewers Cup, we announce winners of the Washington Hombrewers Association awards and this year we were able to also pour homebrew legally for the first time. Proceeds from ExBeerience are donated to a local charity. This year we raised over $3200 for the charity, Childhaven.
Have you brewed with a professional brewer?
My brother and I won and got to take an all expenses paid trip to brew our American IPA on Anheuser-Busch's pilot brewery in St. Louis, MO. We have also had the privilege of brewing at Big Al Brewing in Seattle, WA and Powerhouse Brewing in Puyallup, WA.
If you could serve your homebrew to someone famous, who would it be and what would you give her/him?
I would like to have had the chance to serve Greg Noonan our Strong Scotch Ale.
How many medals have you won from homebrew competitions?
Since 2007, we have won over 50 ribbons and had 7 beers place in the BOS round of various local homebrew competitions. Each of the last two years we've had at least one beer advance to the second round of the NHC.
Do you brew alone, with friends or with someone you live with?
I brew with my brother, Steve. He takes care of most of the hot side, and I concentrate on recipe formulation and the cold side of the brewing process.
List some of the names you've given your beers. Which is your favorite?
Fustercluck – German Pilsner, Fat Guy in a Little Coat – ESB, Training Wheel – Cream Ale, Ron Burgundy's Scotchie Scotch Scotch Ale – Scottish 70/-, Death by Hops – Imperial IPA. Death by Hops is my favorite.
Homebrewers Association
Homebrewers Association