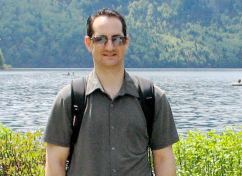 Home Town (City, State):
I currently reside in Westminster, MD, but grew up in Pittsburgh, PA and have also lived in New York and Delaware.
When did you begin homebrewing?
I started brewing in 1996 with kits. After two good and two terrible batches, I gave up until 2005, when I caught the brewing bug again after a trip to Belgium. While I had liked craft beer for a long time, experiencing the amazing and different characteristics of the Belgian beers convinced me that I wanted to try homebrewing again. I have been brewing regularly since 2005.
Do you have a homebrewing disaster you'd like to share?
I've had good fortune in this regard, but my most difficult batch was one I brewed during my first iteration as a homebrewer, an extract porter. I was living in an apartment in Delaware at the time and there were brewing problems from start to finish. The wort boiled over on the brew day, leaving a layer of caramelized sludge on the stovetop that I don't think I ever managed to get perfectly clean. I over-primed the bottles, and had a few explode in the closet where I kept them (staining the carpet beneath). I don't know how I got my security deposit back when I left this apartment. Not even drinking this beer was consolation-it had harsh, mediciny flavors and ended up mostly going into the sink. Fortunately, my brewing has gotten a lot better since this batch.
What is your favorite style(s) to brew?
Belgian Trappist-style/strong ales, Bavarian lagers, and Weissbier. I also try to always have American IPA on hand. I have also tried a few sour beers, and I am hopeful about a batch of Oud Bruin I have in bulk aging (1/2 of it on locally produced sour cherries).
What style(s) will you never brew?
I will not say that I'll never brew a style, but there are a few that are lower on the priority list, like light American lager.
What was the first beer you ever brewed? How did it turn out?
I brewed a pale ale from a hopped extract kit during my first iteration as a homebrewer, and had good fortune with it. The beer turned out quite drinkable. In hindsight, it was either slightly infected or had a fermentation issue leading to acetaldehyde (or both), but the amount of "goodness" in it encouraged me to keep going.
Have you ever had a homebrew mistake that turned out great?
I recently had a Munich helles accidentally freeze during lagering when my temperature controller went haywire (be sure to keep moisture out of the temperature probe). However, I had a good fermentation before this, and after thawing it and putting back through the lagering phase, it actually turned out very well. I was thrilled to achieve a very similar malt character to some of the examples I tried in Munich.
What is your favorite beer recipe?
Check out his award winning Dubbel recipe on the AHA Homebrewopedia.
Describe your brew system.
Barley Crusher malt mill – 2 rollers, adjustable on both sides
Mash/Lauter tun: 10 gal cylindrical cooler with an outlet ball valve and stainless steel false bottom; rotating sparge arm
Hot water tun (for sparge water): 5 gal cylindrical cooler (my original mash/lauter tun; I converted to 10 gallons for higher gravity brewing)
Brewpot: 8 gallon stainless steel
"Decoction" pot: 4 gallon enamelware
Hurricane propane burner
Glass carboys for fermentation – 6.5 gal for primary and 5 gal for lagering, dry-hopping, and bulk-aging of big beers (I don't secondary for normal gravity ales unless dry-hopping)
Chest freezer and temperature controller for lagering
I bottle condition although I'm gradually acquiring parts for kegging
Do you have a favorite homebrew trick or gadget that you've found to make your beer better/brewing easier, etc?
I haven't been big on tricks or gadgets to this point, but I find that always making an appropriate starter and paying attention to fermentation temperature control have made the biggest difference in the quality of my brewing. I like gadgets, but don't have a lot of time to experiment and build, so I've focused the time, energy and money I've put into my brewing system on the above items.
How frequently do you brew (times/month or /year)?
About 10 times per year.
What is your favorite malt? Why?
Bestmalz German Pils malt. It gives a terrific, fresh German malt character to my lagers.
What is your favorite hop? Why?
Cascade – the quintessential American hop for pale ales and IPAs.
Do you have a favorite or house yeast? What qualities do you like about that yeast?
Most of what I brew can be made with WLP001 (California Ale), WLP530 (Abbey Ale), and WLP833 (German Bock). Depending on the style, I will use other yeasts as well. While the above have all given me great results, I have found that WLP833 to be a real workhorse in lager fermentations, while also providing the clean character needed to develop the round German malt flavors.
What beer style could take off given the opportunity and exposure?
Czech dark lager is a style that, from what I can see, is relatively undiscovered outside of the Czech Republic. It differs from German dark lager in both malt and hop character, with the primary difference being more bitterness and hop flavor. The balance of the hops with the malt characters leads to beers of amazing complexity at relatively low gravities-the epitome of a session beer. While in Prague, I went to a restaurant with 200 beers available, most from artisan Czech brewers. I tried several dark lagers and was amazed by the characteristics and complexity, with flavors ranging from caramel malt to tobacco to spicy hops. This is a style where I will definitely experiment in the future, but I hope to see this style get more exposure. It does not have an explicit style in the BJCP guide, most likely because it really has not yet taken off here.
If you could serve your homebrew to someone famous, who would it be and what would you give her/him?
A panel including Garrett Oliver of Brooklyn Brewing, and the late Michael Jackson of beer writing fame. I would provide a flight including (from start to finish): Munich helles, maerzen, rauchbier, American IPA, Belgian dubbel, and Belgian strong dark aged on oak.
How many medals have you won from homebrew competitions?
I've won 5 ribbons with 2 of my beers (the featured Belgian dubbel recipe won 3; a rauchbier won the other 2). I have to admit I do have a competitive side, so I hope to win more in the future. I am thankful for the feedback I receive through competitions, and any awards that I've won are validation of improvements that I made to my process. The brewing community is terrific, and we are fortunate to have so many more resources (and better information) than existed when I first started brewing.
Do you brew alone, with friends or with someone you live with?
I usually brew with my dog, Bumble. I have been working on a few group sessions with other brewing friends but we've had a difficult time making schedules work.
Are you an indoor or outdoor brewer?
Definitely outdoor. This gets more difficult in the winter. But a crisp, cool, and clear autumn day spent brewing outside? Nothing beats it.
List some of the names you've given your beers. Which is your favorite?
"Joey's Smoked Porter" is the name of a beer I brewed of that style a few years ago. My forum handle is "Joeysmokedporter"-a combination of the style and a former linebacker for the Pittsburgh Steelers. Nothing magical about this, his last name happens to be "Porter" and I like the ring of it.
Homebrewers Association
Homebrewers Association