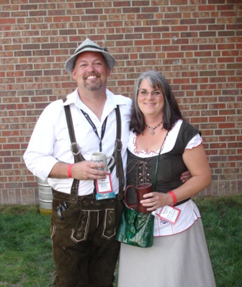 Name: Tammy Graff
Home Town: Cincinnati, OH
Homebrew Club: Cincinnati Malt Infusers
I've been a homebrewer since: 1998
When did you start brewing/What got you brewing?
I was afraid to brew at first, it seemed too complicated. I started with wine and found that to be too easy. So after watching members of the Cincinnati Malt Infusers, I decided I could do it, and took a chance and tried it in 1998.
When did you know this was no ordinary hobby, it was an obsession?
When my husband and I opened Paradise Brewing Supplies in 2007.
When did you join the AHA?
In 2008, our homebrew club, the Cincinnati Malt Infusers, was one of the hosting clubs for the AHA conference in Cincinnati.
What is your "white whale" beer (the beer you'd hunt to the ends of the earth for, and possibly die trying to obtain)?
When I went to the National Homebrewers Conference in Oakland, Calif. I found a beer that really changed me: Pliny The Elder. I never liked hoppy beers, but this was so malty and hoppy, it gave me goose bumps. I have now moved to the hop side. Pliny is a crazy good beer, but you can't buy it in Ohio…yet.
What are your favorite craft breweries?
That is a tough question. There are so many! Avery, Russian River, Founders, Southern Tier and New Holland, just to name a few.
What is your favorite commercial craft beer?
Avery Brewing Company's Maharaja
Do you have a homebrewing disaster you'd like to share?
When I made a clone recipe for Founders Breakfast Stout, I did not know to mix the grains and oatmeal. When I was finished steeping the grains and I pulled the grain bag out, I had a huge ball of dry oatmeal and grain in the center of my grain bag. Because of that, I was not able to get all the sugars out, so the gravity did not get where it should have. I know better now.
What is your favorite style(s) to brew?
Large, malty stouts.
What was the first beer you ever brewed? How did it turn out?
I made an American amber kit, it was very drinkable.
Have you ever had a homebrew mistake that turned out great?
I did not read the recipe correctly when I made a chocolate oatmeal stout and added bakers chocolate and German dark chocolate instead of just one. It turned out fantastic!
What is your favorite recipe based off of a commercial style?
New Holland's Dragons Milk Stout
Are you a BJCP Judge? If so, what is your rank and how long have you been judging?
I am not a BJCP Judge. I have judged a few competitions, but I mostly steward and help behind the scenes.
Do you have a favorite homebrew trick or gadget that you've found to make your beer better/brewing easier, etc?
Not yet, but I always have fun!
Describe your brew system.
Nothing fancy, just a nice bayou stock pot that is big enough to do a double batch, and a burner so I can brew outside.
How frequently do you brew (times per month or year)?
Not as often as I would like, working two jobs cuts into my free time to brew.
What is your favorite hop? Why?
Cascade. It is the original "citrus" hop, and often gets overlooked.
What is your dream beer and food pairing?
I did get an idea from a magazine paring cookies with beers. It sounded weird, but it turned out fantastic for my girls camp out! It was a huge hit!
Do you have a favorite or house yeast? What qualities do you like about that yeast?
I like the new dry BRY-96 from Lallemand. Very good stuff and super easy to get working quickly.
Where is your favorite place to enjoy a homebrew?
Home with my husband, watching our two "Brewdogz" Telly and Lucky play!
Is there any advice you would like to give to new homebrewers?
It's not hard if you can follow a recipe, you can brew beer. Just read the directions, make sure you have all your supplies and just do it! Most importantly, clean and sanitize! So many people think it is the same thing but it is not. It's two different steps and two different products. Sanitizing is so important!
Homebrewers Association
Homebrewers Association