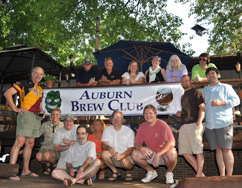 Name: Auburn Brew Club
Founded: May 2007
Membership: 20
Location: Auburn/Opelika
Email: info@auburnbrewclub.org
Website: www.auburnbrewclub.org
Club Motto: Who moved away this month?
Membership Dues: $0
Who we are and how/why we got started:
There have always been homebrewers in the Auburn-Opelika area. But until mid-2007, there hadn't been a website, method of communication or regularly scheduled meeting to bring all the homebrewers in the area together.
Regular meetings and modes of communication can really serve to re-inspire long-time brewers and give beginners easy access to knowledge and hands-on experience. Tips and techniques are shared and blind spots revealed.
The development of a website and postings on a few online message boards got the ball rolling, which led to a few face-to-face meetings and then regular monthly meetings. That initial group consisted of a variety of ages and types of people, including molecular biologist, a pharmacist, an Iraq War veteran pursuing a master's degree in software engineering, a geneticist, a physicist, an environmental engineer and a healthcare attorney.
But you don't have to have a PhD to brew good beer, anyone can do it! The only requirement to become a truly great brewer is a passion for excellence. Today our club is made up of educators, students and locals so our numbers change as semesters start and end.
Our Club Vibe
Collegiates, academics and people that love beer!
Meetings
We have regular monthly meetings. Twice a year, we hold a big brew, which supersedes the normal meeting. Any member can volunteer to host a monthly meeting or special event. We usually gather at the member's home, but sometimes at other appropriate locations.
The host is in charge of the meeting. All members are emailed periodically with details about the location of monthly meetings and other special events. At the meetings, members and visitors are encouraged to bring a couple of liters of homebrew for tasting and discussion. Since this is a homebrew club, homebrew is highly favored, and we try to limit commercial beers to the raffles and for special study of particular styles. The order of homebrew tasting is usually from low gravity to high gravity, or session beers to palate wreckers. Everyone is encouraged to ask questions of the brewer concerning ingredients and techniques, and to give constructive feedback.
We try to have two structured activities at each meeting. The first is a judging, and the second is a raffle. For the judging, the host will serve a secret beer, which is usually a good homebrew of a particular style. Everyone will taste the beer just as if they were judging it and fill out standard Beer Judge Certification Program (BJCP) score sheets for that style. We do this exercise to hone our beer tasting and analysis skills.
Entry in the raffle is one bottle of homebrew or good commercial craft beer. The meeting host is the final arbiter of whether the entry is legitimate. Names of the entrants are placed in a hat, and the last one drawn is the winner. The winner gets all the beers that have been entered!
Fun Activities
We do tailgates in the fall for football and have two big brew events a year. We also have a number of club challenges, either based on style or ingredient. Some of our most memorable were the Bacon Challenge, Scottish Style Challenge, Founding Fathers Challenge and "Use an ingredient from Alabama" Challenge.
In December of 2010 we were contacted by the Cascade Brewers Society (home of the Oregon Ducks) to have a friendly competition on the outcome of the Auburn vs. Oregon National Championship Game. We received two cases of homebrew that we tried during a special meeting. We sent them notes, photos and video of the event. Both groups enjoyed it!
Homebrewers Association
Homebrewers Association