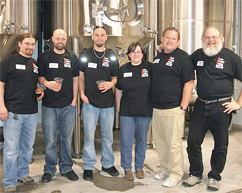 Name: Cache Brewing Society
Founded: 2009
Membership: 14
Location: Cache Valley, Utah
Mailing Address: 332 S. 600 W. Logan, UT 84321
Email: andrew.jensen@iconfitness.com or dhoward@idksoftware.com
Website/Social Media: http://www.cachebrewingsociety.com/
Club Mission: We aim to promote the art and craft of homebrewing. This includes beer, wine and mead. We help introduce the hobby to new brewers and help existing brewers improve their craft.
Club Motto: Saving Utah one beer at a time.
Membership Dues: $0
Who we are and how we got started:
Cache Brewing Society is a collection of men and women brought together to share their love and enjoyment of crafting their own beer, mead and wine. We began the club after a few successful years of Big Brew Day events. We wanted to continue to have get-togethers that would not only help us to become better brewers, but also learn more about how to critically taste and evaluate beer and mead. Most meetings include a session where we use a commercial example of a certain beer style to set a calibration level. We then see if any club members have a beer in that style to sample as well. This will help us see where our beer could improve, and where our beers shine.
Cache Brewing Society (CBS) got started shortly after homebrewing became legal in Utah after the passage of HB51 (March, 2009). Even though the club did not have a name in 2009 we were excited by the possibilities of having a club. Utah has had an active homebrewing community for decades even though it was technically illegal to brew at home in the State of Utah. CBS has its roots in those earlier days when homebrewing was still illegal.
Before home brewing was legal in the State of Utah, you would only invited people to your brew-day that you knew or had a friend that you knew. Even though home brew stores were around and everyone knew what they were selling was for, there was still a mistrust that you might get into trouble for home brewing. Strangers were not always welcomed. Now that home brewing is legal, it is much easier meet new friends and to stand up and say "I brew my own beer!".
Meetings:
Every 2 months

Other Activities:
Big Brew Day
Mead Day
Teach A Friend to Brew Day
Mountain Brewer's Beer Fest
Oktoberfest
Pub Crawls and brewery tours
AHA Rallies
Homebrewers Association
Homebrewers Association