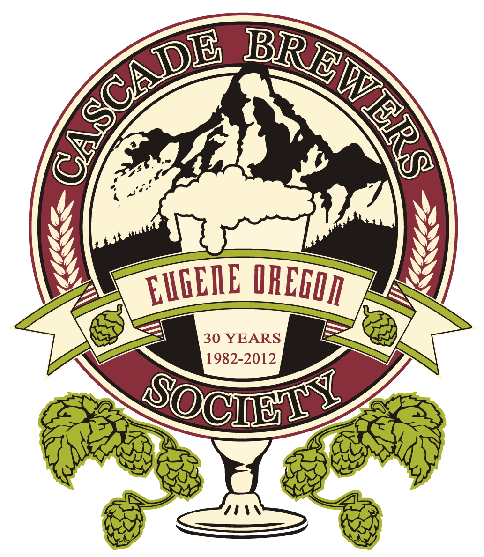 Name: Cascade Brewers Society
Founded: 1982
Membership: ~80
Location: Eugene, Oregon
Email: clubinfo@cascade-brewers.com
Website: Cascade-Brewers.com
Membership Dues: $20/year
Who are you and how/why did you get started?
Not long after President Carter made his biggest contribution to society in 1978, the Cascade Brewers Society (CBS) formed in the basement of a local homebrew shop to share a common passion: homebrew, of course. Some of those guys were old school and malted their own grains—now that's passion! The club grew slowly in the 90s, but bred some fantastic brewers. They took trips to Belgium, soaking up super sour secrets; some became obsessed with lagers, others with mead. John Maier, Chip Hardy, the late Glen Falconer, Jamie Floyd and Nate Sampson are all CBS members who started as homebrewers and went pro. One member, Chris Studach, even has his face on a beer bottle—you can still buy it! Chris is the guy on the beer bottle for Rouge's Hazelnut Brown Necter. His original recipe inspired John Maier to brew the commercial version. Chris is an iconic local homebrewer.
After thirty years, the club has become an extended family of homebrewers who brew and contribute to the club in different ways, but always bring awesome beer and brewing knowledge to meetings. We have farmers, chemists, and professional brewers on our roster; living proof that beer is good for society. In the last three years we have nearly doubled the membership. A lot of the newer members are coming in with the increase in popularity of the hobby.
What's your club vibe?
DIY ethos from casual experimentation to deep-science brewing techniques. Eugene is a quirky place, and we represent that well. We're down to earth without being dirty hippies (well, not all of us…). New members tend to choose themselves: a strong sense of humor and desire to be part of the community are musts, and the rewards are plenty.
What can be expected at a CBS meeting?
Meetings are held at 7pm on the last Monday of the month at the Eugene City Brewery. We talk a little business, a little science, and share the fruits of our labor. When we can, we'll have guest speakers, which recently included a local Willamette Valley farmer who has started raising malt-quality barley. There is some social time afterward to trade tips and talk about the homebrew we brought. We're blessed with a local pub (Rouge) that lets us bring in homebrew!
How many competitions does CBS enter?
We participate in about nine Club Only Competitions per year, and local competitions: KLCC and Sasquatch. Club member, Terry Bucher, recently took bronze with his common cider in category 27 at the 2012 National Homebrewers Competition!
What other fun activities can members participate in?
We do a long weekend camp-out in the Willamette National Forest with a huge raffle, lots of BBQ, and about 30 kegs of homebrew. We've been celebrating cask conditioned real ales for the last 3 years and the occasional Iron Brewer and Teach-A-Friend are always a hoot. We get together at various watering holes for Friday happy hours, rock out sweet parties after club-only-competitions, and sometimes get up the gumption to hire a bus to Portland, Seattle, or nearby Oakridge, which has a British-style pub.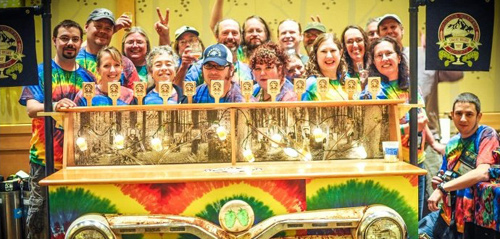 Tell us about your club booth at NHC 2012.
Our club booth at 2012 NHC rocked the house! It was a mock up of the Kesey "Further" bus that we turned into "Beerthur." The tie-dye theme included a grill from a 1950 Ford F100, handmade taps of maple and myrtlewood, some great graphics on the banner and dashboard, along with a LED display of all the beers on tap. There were 36 beers to choose from, and we rotated three flights of 12 taps during the night. Favorites seemed to be a wild rice lager, a "Wee Shroomy" Scotch ale with Chantrelle mushrooms, and the club barrel project Flanders Red aged in a Pinot wine barrel.
Homebrewers Association
Homebrewers Association