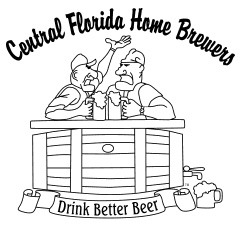 Central Florida Home Brewers – a convocation of ardent individuals dedicated to the art/science of making and drinking handcrafted beer.
Name: Central Florida Home Brewers (CFHB)
Founded: May 1989
Membership: In 2012 we had 176 members with 20 of them being lifetime members
Location: Meetings are held at Rossi's Pizzeria, 5919 Orange Blossom Trail, Orlando, FL 32809
Mailing Address: P.O. Box 547063, Orlando, FL 32854
Email: officers@cfhb.org
Website/Social Media: CFHB.org, Facebook – Central Florida Home Brewers
Club Motto: Drink Better Beer
Membership Dues: Yearly membership: $20 | Lifetime membership: $150
Meetings: Are held the first Sunday of each month.
Club Vibe
For the most part, the club is a social club "Drink Better Beer."Our members range from a few who have been with the club since its foundation and new members who are just old enough to drink.We have had several members become professional brewers at Cigar City in Tampa (Josh Bengle, Matt Tucker) and Cask & Larder in Winter Park (Ron Raike). We also have some nationally recognized BJCP judges: Ed Measom, Richard Parkinson, Mac Monroe and Ron Bach is a Grand Master Judge.
Membership Specifics
Meetings are held the first Sunday of every month. Attend as many meetings as you can after paying your dues of $20 yearly or $150 lifetime. It would be great if you brewed and attended festivals and monthly events but these are not mandatory.
Meeting Topics
Each meeting is preeceded by a beer school where all kinds of topics are discussed: brewing systems, techniques, water, hops, yeast, etc. At the general meetings we discuss up coming competitions, events, finances, festivals, and of course, our Sunshine Challenge competition/festival that takes about a year to plan.
Competitions
We host Meadllennium and Sunshine Challenge each year.Meadllennium is a mead only competition.We hold this each spring/summer.After the judging we enjoy the meads, with some good food and friends.
Sunshine Challenge is a two day event held each November.We begin with a Belgian night on Thursday evening, which is an awesome evening with more Belgian beers, chocolate and stinky cheeses than you can eat or drink.Friday night we host a festival, with 30 vendors and about 150 participants.Then on Saturday, we host a pub crawl that is filled to capacity each year.During the days our judges are hard at work judging the 700 or so entries that we received from around the country.Saturday evening we end with the awards dinner and party.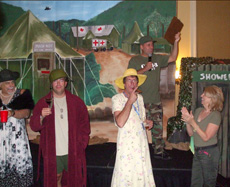 Fun Acitivties
For our Sunshine Challenge we have a theme every year. Last year our theme was the T.V. show M.A.S.H, and everyone dressed as their favorite character. We hold monthly events as well as attend festivals throughout the year. Most of our events are free to members, we host a presidents party, Stout & Stogie, brew in the park, pool party and Christmas party to name a few. We also have a kegerator that can hold up to six kegs that we call "The Beast." We bring "The Beast" along when we attend festivals and competitions to serve the beers our club members have brewed.
Homebrewers Association
Homebrewers Association