Name: Colorado Wine Club
Founded: December 2009
Membership: Wine, Mead and other amateur beverage makers
Location: Aurora, Colorado
Mailing Address: 4860 S. Quintero Street, Aurora, CO 80015
Email: ronscovil@juno.com
Website/Social Media: www.coloradowineclub.net
Membership Dues: $75.00 (CWC and American Wine Society)
Who we are and how we got started:
Colorado Wine Club is a non-profit organization whose goals are to promote the art of wine and mead making through informational, competitive, and social meetings. Our membership is comprised of amateur and professional wine/mead makers, wine appreciators, wine educators, grape growers, and chefs. As you can see, we have a defined format – more specifically, we go beyond just making wine – we are truly hobbyists who inspire to learn more about the appreciation of fine arts, beverages and gastronomy. More like a "farm to fork" social club! Our most recent endeavor has been becoming an American Wine Society Chapter (AWS) (the 2nd in the State and the only one of its kind in Colorado and the United States).
We encourage our members in the crafting of unique/creative products, at the same time, stress raising the bar and expanding the market for both meads and wines alike. We strive for quality…"great wines start and end with excellent ingredients, cleanliness and sanitation. The end result – a stylish profile unrivaled by any other club in Colorado" (R. Scovil, 2010).
Our club vibe: (Beer geeks that wear lab coats? Moonshining rednecks trying to get drunk for cheap? Free spirits trying to express their artistic prestige? Dudes who like beer? What's your club like?)
We keep our club fun. We like people to be who they are. No matter who you are or what background you come from – you are welcome. We only ask that you want to become better. Be open to learning and being challenged. We want to be the best in the country and raise the quality and standard so people know in Colorado there are some folks who take no prisoners but they are friendly and open to share.
Our foundational goal is to provide our members with the skills to win at least one (1) medal from an AWS and/or AHA/BJCP governed competition within two years of joining the club. To date, 93% of our club members have met that goal.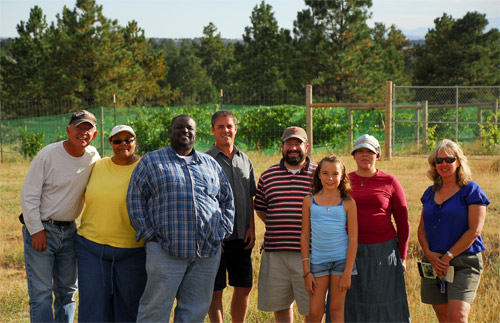 Fun Activities:
Lifestyle field trips, summer bbq, educational with chefs and the best instructors in the country. The lifestyle trips we have taken have been to vineyards, farms and berry patches as well as various wine/mead compeititions around the state. We additionally take members to local liquor stores and microbreweries to teach members different styles and flavor profiles to purchase. This year we have planned trips to farmers markets in an effort to teach members how to choose fresh fruit.

Our group is very diverse, in that members not only make wines and meads, but beer, liquors, and even their own sodas. Our club focuses on "farm to fork" or "ground to glass" concepts, therefore not only are our beverages handcrafted, so to are many of the food pairings we serve with them. We have members whose hobbies including gardening, beekeeping, as well as wine making.
Meetings:
Every second Saturday
15120 E. Hampden Ave, Aurora, CO 80014
www.thebrewhut.com
Meeting Format: Rotates between Technical (where we teach winemaking) and Lifestyle (where we focus on activities that surround winemaking)
Competitions: We don't hold any but we support and compete only in sanctioned competitions that keep the standards and judging fair for all