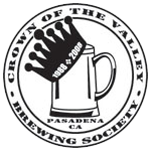 Founded: 1988
Membership: ~20
Location: Originally Pasadena, however current members are now in San Gabriel Valley, The Inland Empire and Antelope Valley.
Website: www.crownofthevalley.org
Email: vp@crownofthevalley.org

COVBS is an extremely dedicated homebrewing club hailing out of Pasadena, CA. Our mission: To strive to produce exceptional homebrew for and amongst ourselves and the rest of the homebrewing and beer community. Established in 1988, COVBS is currently celebrating their 21st year of homebrewing excellence. This past year's enthusiasm in the club has really shown throughout homebrewing events and
competitions throughout the country.
With members such as Todd Peterson (President, Brewer for Craftsman Brewing Co.), Herb Adams (Brewin' With Herb), John Palmer (Homebrewing Legend and Writer), and Push and Sven (Audio Contributors: The Brewing Network), Crown of the Valley is an amazing wealth of knowledge for members and non-members alike. Aside from those listed, there are about 20+ additional members of COVBS.
Meeting Information:
While founded in Pasadena, most members have migrated East and most meetings are held between Glendora and Rancho Cucamonga. Our membership base ranges from Lancaster to Canyon Lake.
Meetings are typically held on the second weekend of each month and run from 1:00 to 4:00(ish), however we usualy run a poll in our online forum regarding the actual meeting date in an effort to maximize attendance. Meetings are held at active members houses, in which the host will provide a main course, and attending members will volunteer for side dishes… and of course everybody brings homebrew to sample as well as commercial finds usualy pertaining to a style of the month discussion. We often find members bringing some rare gems to meetings as well.
Addtional Activities and Projects: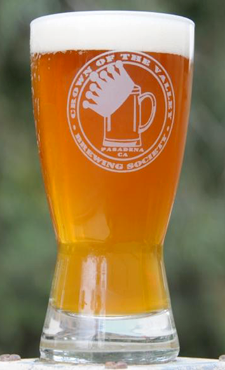 In addition to regular club meetings, COVBS participates and hosts various events throughout the year.
Every May, COVBS participates in the Southern California Homebrew Festival. A 2 day camping trip that revolves around the best homebrew festival in Southern California.
For the past two Fall season's we have put together a live homebrweing demonstration in which we are able to show the community how easy it is to brew great tasting beer at home. Our event has been hosted by Pacific Wine Merchants in Upland (Our local homebrew shop), and have had several sponsors donating raflle prizes for our guests including: The Back Abbey, Lone Hill Liquor, and Lucky Baldwins.
Our yearly Barrel Project has been our pride and joy the last couple of years. Our club is fortunate enough to have good friends at Firestone Walker, and as such they were kind enough to donate one of their barrels to our club. The last two years, the entire club brewed the same batch of beer which we then loaded in the barrel and aged. It has certainly been a great presentation for us at Fest. Our 2010 release dubbed "21" (marking our clubs 21st anniversary), is a blend of 5 styles/recipes that have been tried and true brews from our clubs members. As an active club member, you have the option of participating in this club project, and when it's time to empty the barrel, you certainly get out what you put in.
Membership Information:
Forum membership is free, and is a gerat tool for finding out more about our club. Once registerd, you will have access to additonal forums like Members Only, and Meetings. To register, please send an e-mail to vp@crownofthevalley.org, and include a desired username. You will be provided with a password that you can change once you log in.
Anyone interested in attending a meeting is more than welcome. We ask only that you be respectfull of our hosts homes, and be responsible for your actions, as obviously alchohol is a common denominator at our meetings. If you decide that Crown of the Valley is right for you, membership is only $20.00 per year individual, or $30.00 for family membership. Club dues fund many club projects such as our serving box rehabilitation which took place before the So Cal Homebrewers Festival in May of 2009.
Member bennefits include discounts to local homebrew shops and bottle shops as well as discounted camping at fest each year (we all share sites, so rather than paying for a full site, each member pays a portion of the site).
Homebrewers Association
Homebrewers Association