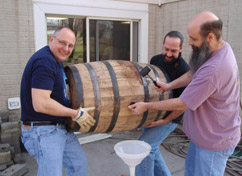 Cross Street Irregulars Homebrew Club
Founded: 1989
Membership: 60
Location: Baltimore, Maryland
Mailing Address: N/A *Note: We don't have an official PO Box that we do business out of. But if something needs to be mailed to the club from AHA, it can be sent to my personal address at:
6424 Sedgwick Street
Elkridge, MD 21075
Website: http://csibrewers.org/
Email: brewing@csibrewers.org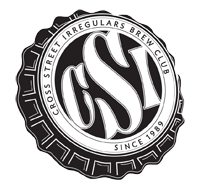 Club Motto: "Filling the air of Baltimore with the aroma of hops and malts since 1989."
Membership Dues: Annual. $20 for an individual / $30 for a couple.
Who we are and how we got started:
The Cross Street Irregulars Brew Club was founded in 1989 at Sisson's Restaurant & Brewery by then manager and brewer Hugh Sisson (founder of Heavy Seas Brewing Company), along with Aaron Stowers, Joe Monroe and Shawn Branch. The CSI's name was a play-on-words distinguishing its members from the other regulars at the local Cross Street pub. Meetings were held in the back room behind the bar at random times throughout the year.
CSI's goal was to have a place where homebrewers could get together, discuss their craft and lend support to each other. Members would share homebrew samples and talk about how to improve them. Soon, the word among local homebrewers spread and the club grew. It wasn't long before the club was topping 50 members, planning homebrew parties, holding group brew sessions, organizing bus trips to Maryland, Pennsylvania, and Virginia breweries, and lending volunteer support to local charitable and civic events.
CSI has evolved and changed meeting locations over the years, but is still committed to the same foundation and goals that the club was founded on in 1989. Today the club prides itself on the quality of exceptional homebrew being crafted by its members, as well as the homebrewing outreach conducted in and around the city of Baltimore. In addition, the club recently upgraded its website with the vision of creating a highly interactive interface for club members to share recipes, swap equipment, find information for regional and national homebrew competitions, and discuss tips and techniques.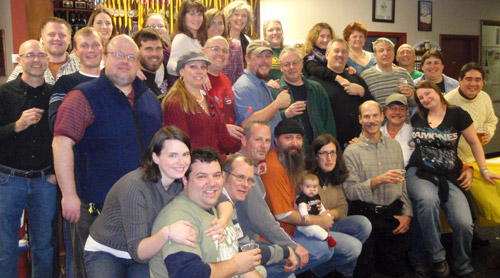 Meetings:

The club meets on the second Tuesday of every month at Mahaffey's Pub in the Canton section of Baltimore, MD beginning at 7:30pm. Meetings begin with general business and the notification of local events of interest to homebrewers. Next, the club likes to hold an educational section where we have a Q&A session with a commercial brewer. Following, someone discusses a recent brewing related trip, or we talk about homebrewing tips and techniques. The meeting concludes with a homebrew competition. Members submit beers for judging and comments are offered by other members. Points are awarded for the top three themed beers and the top three non-themed beer entries. Points are used to award the title of "CSI Brewer of the Year" at the annual holiday party.
Competitions:
The club holds monthly "theme" and "non-theme" competitions for members. Club members are also encouraged to regularly participate in local, regional, and national competitions.
Other Activities:
CSI is part of the Free State HomeBrew Club Guild (FSHCG), which serves as a clearinghouse for all Maryland clubs who wish to interact with other clubs. CSI members actively take part in FSHBG events such as monthly meetings, summer and winter parties and homebrew competitions.
CSI members also take an active role in the planning and running of Baltimore Beer Week. Members of the club serve on the organizational committee, as well as volunteer at many events held in and around Baltimore during this week. At the 2010 Baltimore Beer Week, CSI members teamed up with Mark Supik and Company (a local beer tap handle making company) to hold a free "Tap Handle and Homebrew Making" demonstration.
Awards:
CSI won the "Pissoir d'Or" (Golden Urinal) award at the 2005 AHA conference in Baltimore for bringing the most beer to the conference.
Social Media:
Website/Blog: http://csibrewers.org/
Facebook: http://www.facebook.com/home.php?sk=group_246817092236
Twitter: http://twitter.com/csibrewers
Homebrewers Association
Homebrewers Association