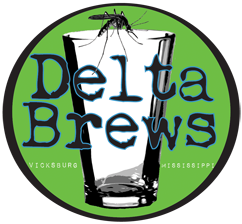 Name: Delta Brews
Founded: March 2012
Location: Vicksburg, Mississippi
Mailing address: 4490 Chichester Road, Edwards, MS 39066
Email: deltabrewsms@gmail.com
Facebook / Twitter (@DeltaBrewsMS)
Membership: Six founding presidents (Sandy Brasfield, Nathan Harms, Gary Haygood, Erynn Maynord, Sean Murphy and Ryan Pickett) and about 15 more members we would consider regulars.
Club Motto: Enjoy the Buzzzz… We originally were considering a crawdad as a mascot, but chose a mosquito on a pint glass instead. One could put seats and sell tickets to fly on a Delta mosquito. The 4 Z's represent the four ingredients in beer.
Membership dues: $0.
Meetings: First Monday of each month at The Klondyke in Vicksburg.
Who Are We?
This is tough. Three of us were involved with a homebrew club in Jackson, but they were moving away from focusing solely on brewing and onto social events and electing officers. Deciding to go on their own, the three—two work for the U.S. Army Corps of Engineers and one for the Miss. Secretary of State—recruited a newspaper editor (Murphy) and two more from the Corps. In March, we chose Delta Brews and off we went.
The beauty of Delta Brews is we are 100 percent beer-focused. We happily pass on our knowledge to anyone who will listen. We're fun, laid-back folks from all over the U.S. who love to brew beer in a state not yet known for being a beer hub. The only qualification one must possess to be a Delta Brews member is to brew. That's what we plan to continue to do.
ENJOY THE BUZZZZ!!!
Awards
Nathan Harms placed third nationally in the AHA nationals with his oak aged Russian Imperial stout in 2012.
Our club took third place in pilsner at the Emerald Coast Brew Fest in Pensacola, Fla., in September 2012.
Nathan Harms (two firsts and best in show) at Jacktoberfest in Jackson in October 2012.
Sandy Brasfield also won first place in the lager category at Jacktoberfest.
Sean Murphy was awarded first place in the miscellaneous category (two years in a row) at the Outlaw Homebrew Competition at Keg & Barrel in Hattiesburg, Miss.
Fun activities
Beer Geek Night
Delta Brews sponsors Beer Geek Night at the local bar Martin's at Midtown each Tuesday. One member will pour flights and describe different styles, etc. It started with only a few people and has grown each week.
Learn to Homebrew Day & Turducken
Our group celebrated AHA's Learn to Homebrew Day in November with a 24-hour brew-a-thon. From 8:30 a.m. on November 3 until 8:30 a.m. November 4, club members had at least one brew going at every minute. We brewed 19 five-gallon batches of beer.
A month later, Sandy Brasfield hosted Turducken (duck inside a chicken inside a turkey), a holiday tradition. We took all the beer brewed on Learn to Homebrew Day and featured them all at Turducken for a people's choice contest. Sean Murphy won with a pale ale, but claims of political shenanigans are still rampant.
Homebrewers' Retreat
Delta Brews sponsored an April Homebrewers' Retreat campout. We had 50 people from all over the state, representing five homebrew clubs, share a day and night of fellowship and beer. Served all homebrew. Campers traveled from as far as three hours for the event.
Homebrewers Association
Homebrewers Association