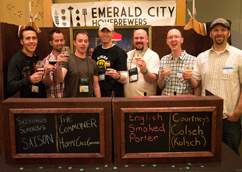 Name: Emerald City Homebrewers
Founded: 2011
Membership: 10
Location: Seattle and surrounding area
Email: emeraldcityhomebrewers@gmail.com
Website: EmeraldCityHomebrewers.org
Club Motto: Carpe Beerum!
Membership Dues: $20year
Who we are and how we got started/why we got started:
There was a fateful evening a couple summers ago, when at an AHA Rally at the Pike Brewery in Seattle (to announce the 2012 NHC), Andrew, Ben, Jason, and Ryan ran into each other, hung out, and chatted over beers. We were a combination of old friends, newish friends, and a total stranger (Ryan, at the time). Conversations around beer and brewing quickly revealed we were all in a similar place of being past our first homebrewing adventures, and looking to take our brewing skills to the next level. We lamented the few quality-focused venues for having our beer evaluated, growing our knowledge of brewing, and sharing what we'd learned along the way. Thus, with similar goals (and levels of inebriation), the compelling idea of a small, quality-focused homebrew club became the Emerald City Homebrewers club! As of today, we have 10 solid, brewing-addicted members. We're a combination of IT-Industry Professionals (actually, mostly IT-professionals, being in Seattle and all), but also have a Cycling-bum, and a Professional brewer among our ranks.
Our Club Vibe:
Our club vibe is tilted more to the front-side of the mullet, but with a healthy dose of fun to balance out the back. We don't discriminate potential membership on brewing method (extract vs. all-grain), or system make-up (stove-top brew-in-a-bag or shiny-electric-automated-everything). We simply look for responses in our Submission Form that indicate a regular brewer past their first few batches, a passion for brewing better beer, and an ability to participate regularly in club meetings.
Meetings:
Our monthly club meetings are formal in structure, but somewhat loose in content. We start with any club business, then transition to a 'tech-talk' or presentation where a member of the club (on a roughly rotating basis), prepares some materials for discussion around any aspect of brewing process, ingredient, etc. Then, with the 'hard' stuff out of the way, we actually start tasting beer! The sensory evaluation session can extend from the earlier presentation (i.e. tasting a beer made with a discussed ingredient or using a specified process), andor simply sampling beer other members have ready. This is an area of particular importance to the club since in our opinion, unbiased, unvarnished feedback is one of the most valuable learning tools of the discriminating brewer. Through this stage of our meetings, members beers have improved, helpful processrecipe suggestions have been made, and some awesome (and unique) beers have been tasted!
Competitions:
Being a fairly new club has meant we haven't participated much in competitions as an organized unit so far (though there are decorated individual competitors in the club). However, competitions are a great fit with the ECHB ethos of quality improvement through unbiased analysis from qualified judges. There is significant interest within the club with getting a few of us BJCP certified as well to add value to the sensory evaluation session at each club meeting.
Fun Activities:
Last summer was of course, all about the National Homebrewers Conference which was right in our own backyard. We had a blast brewing an experimental Belgian Spruce Pale ale with Dean Mochizuki of the Pike Brewery (with spruce tips gathered locally by the club), and participating in all the amazing activities NHC has to offer. This summer for ECHB includes participation in a large local homebrewers 'festival' called Beerstock, in addition to a pub-crawl of the many new breweries in the Ballard neighborhood of Seattle. Brew-days, pub meet-ups, and other random encounters will inevitably be a part of our clubs activities as well.
Homebrewers Association
Homebrewers Association