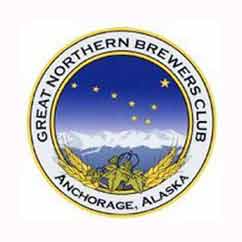 Name: Great Northern Brewers Club

Founded: We officially became a recognized legal social club/incorporated on April 4, 1995. However, there has been some form of a club since 1980 when it was called the Alaskan Fermenters (even though it was illegal to brew beer back then!)

Membership: Approximately 150. The club is governed by annually elected directors and board members (eight total positions). These are purely volunteers.

Location: Anchorage, Alaska

Mailing Address: 3705 Arctic Blvd, #1204, Anchorage, Alaska, 99503-5774

Email: president@greatnorthernbrewers.org

Website/Social Media: www.greatnorthernbrewers.org and www.facebook.com/GNBC1
Club Motto: Well, not sure that we have just one that we publicly use, but "Helping Alaskans Brew Better Beer" is a long standing motto.
Membership Dues: $25.00 a year
Who we are and how we got started/why we got started:
Our early meetings were held in a mill feed and garden warehouse trying to stay warm. We wore parkas, mittens, and bunny boots to keep from freezing. We wouldn't be here today without Pat and Randy Oldenburg, the club's first presidents. They spent hours and hours bringing the club together. One of the highlights back then was fighting for homebrewers rights in the state of Alaska. At the time, it was illegal to make beer and the state was not going to let our club set up a display at the annual Fur Rendezvous event. The club members were hot! We wrote and talked to our legislators to have this outdated law abolished. The short story is that we won (see Alaska Statute AS04.2I.015). We held meetings at the Oldenburg's house for many years, then at the local beer/liquor store, and even held meetings at the local Catholic Church!
The reason the club came together is simply to share the passion and creativity of creating one of the worlds oldest beverages with our own hands; and of course the quality and cost of the beverage could not be beat either!
Our club vibe:
Our club vibe is a true calico mix of backgrounds, age groups, and styles but the majority of our members are professionals in various business disciplines who enjoy the creativity and socializing that brewing beer and mead offers. But by no means are we uptight, stuffy, or otherwise unsocial! We love to share our passion for brewing and teaching others how to brew great beer and mead.
Meetings:
Our meetings are held on the third Tuesday of the months of September through May at the Snow Goose Restaurant. We take a meeting hiatus during the summer months because the Alaskan lifestyle demands that we play hard while the days are long and the weather warm (at least warmer than January!). Most club members take a break from brewing during these months to fish and go camping.
Competitions:
We have five AHA sanctioned competitions throughout the year (listed below). Each competition is sponsored/supported by a local brewery who will take the best of show winning brew along with the brewer and re-create the beer/mead on a much larger scale for public consumption. Of course the brewer gets 15 minutes of brewing fame too! Each competition has specific categories that we also give club points. At the end of the year we provide an award for the Home Brewer of The Year (HBOTY). We also have several non-sanctioned local events (e.g. Talkeetna Beer Trippin') and participate in numerous events around the State of Alaska.
Fur Rhondy – February
SnowGoose Breakup – April
Anchortown Invitational – August
Equinox Mead Competition – September
Humpy's Big Fish – November
Fun Activities:
Our club is very active overall. Here are just a few of the events we hold:
Our BJCP certified members organize and participate with the judging of the entries for the The Great Alaskan Beer and Barleywine Festival held in January along with AK Beer Week. It's an event not to be missed!
"Brew-a-thon" aka the AHA Big Brew in May
Talkeetna Beer Trippin: A weekend of various beer/food events and competition in Talkeetna Alaska sponsored by Denali Brewing Company.
Annual Club Brews: About six members open their homes as a station for a group brew. Members are encouraged to signup for a location and participate in the brewing (its also a great opportunity for new members to learn). At the end of the day the cooled wort is collected at a central point and fermented in a large 50-60 gallon fermentor, possibly aged in oak, bottled 6-24 months later, and re-distributed back to the owners.
Club weekend camping trip in the summer
Two club picnics at members homes
Monthly beer/food pairing dinners
Annual themed Christmas party (last years was '70s!)
Homebrewers Association
Homebrewers Association