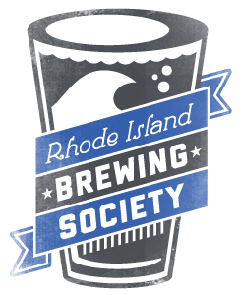 Name: Rhode Island Brewing Society
Founded: August 2011
Membership: 15 members, for now
Location: Northern Rhode Island area
Email: brewmaster@ribrewingsociety.com
Websites: RIBrewingSociety.com; Google+; @Ribrewing; Facebook
Who we are and how/why we got started?
We are a small group of homebrewers dedicated to educating others about homebrewing and the beer industry as a whole while honing our own skills and sharing of information. We originally formed in response to an annual event where we've exhibited the past three years, The Rhode Island mini-Maker Faire. Formation of the club was a very natural answer to the question of "what are you guys doing with those giant pots full of water?" or "what's that amazing (or awful) smell?"
In short, our founding was rooted in providing "beerducation" to the general public as well as a sense of community for our fellow brewers and craft beer enthusiasts…and of course having fun while doing it.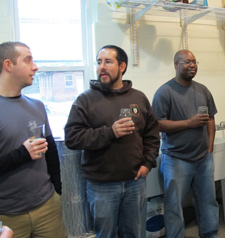 Our Club Vibe
We like to foster a welcoming and fun environment. Whether it's your first time brewing or you're an old hand, we want to hear your thoughts on brewing, craft beer culture or the industry as a whole. Our meetings are typically conducted over a few pints of beer at a local pub, which leads us to get off track from time to time, but we still get things accomplished. Community and sharing of pints amongst friends is always enjoyed in our group.
Club Goals
To mature as brewers and beer enthusiasts;
To promote the dissemination of knowledge in the art of brewing;
To encourage and reward individuals dedicated to the brewing arts;
To educate the beer connoisseur in identifying the components of beers;
To foster the responsible use of the products of our craft; and
To celebrate the fruits of our labors.
Membership Dues
None at this time, though we are looking into a club house which would be a membership shared expense.
What it takes to be a RIBS Member:
Must be 21 or older.
Parties interested in joining are welcome to any of the public meetings, email notice is appreciated.
Any member has to be an active home brewer or actively seeking to start brewing.
Meeting attendance is not mandatory, but missing 3 consecutive meetings without notifying group members will result in an inactive member status, inactive means that you may not get emails and updates of all the cool things we're up to.
All members are interested in the same common goal of enjoying the hobby of home brewing, therefore a mutual respect for all home brewers, beginner or advanced, with no exceptions.
Meetings
We have meetings the second Thursday of each month at 7:00 pm, usually at a beer bar in the Providence area. We usually post the location of the meeting a few days beforehand to the website/Twitter/Facebook/G+ etc. Members are allowed to bring samples from time to time, but need to adhere to some guidelines depending on location. New members are welcome to show up to our monthly meetings, but be warned we may have you say a few words to introduce yourself to the group. There will usually be more than a few Simpsons references dropped at each meeting.
Competitions
We have not planned any yet, but are active participants and sometimes judges in the Ocean State HomeBrew Competition.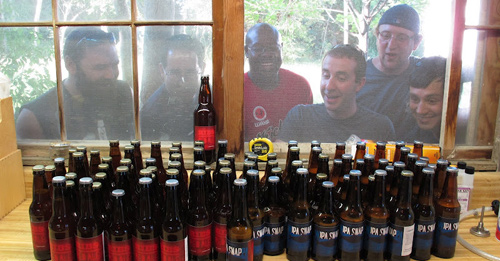 Fun Activities
Brewery Tours: Every other month we plan a brewery tour on the weekend that is open to all members. There are plenty of local breweries in the Massachusetts/Rhode Island area that we've had no trouble going somewhere new each time.
Yankee Beer Swap: In honor of the holidays, we planned this event so that our members could exchange beer. It follows very similar rules to any other Yankee Swap, $20maximum, hard to find craft beer. This is our first year doing this, so we'll have to let you know how it turns out!
Homebrew Swaps: Who doesn't like sampling beers from your friends? In this event we have a number of members meet at one location (usually someone's house) and bring a number of bottles of their personal brew: two bottles for sampling and as many trades as you want. We display the beer on a central table and then each member who brought a beer will get up, pass out samples and talk about the beer (method, ingredients, goals). After the presenter is done, the group will give general feedback, saying what they liked what they didn't like, etc. This continues until all beers have been sampled and discussed. We then take rounds where you can grab one bottle of someone else's beer for every one that you brought. We continue the rounds until all are gone. These beer swaps usually happen three to four times per year.
Group Brews: We get together and design a recipe, usually something that's not your standard run of the mill beer. For example, the past group brew created two recipes, RIBS Red Ale (a beer with homemade BBQ sauce) and WIPA Snappa (a Belgian Wit IPA). Once we've designed the recipe, we all meet up at a member's house and brew it. Brewing together is a great time to learn about other methods of brewing, tips and tricks. We also bottle the beer together when it is complete and all participants will get a fair share of the final product.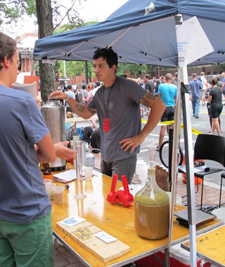 Beer Festivals: We believe in enjoying beer responsibly and to that end we've started to organize transportation for members to local beer festivals. We don't do this to all festivals, but save it for the worthwhile ones. This is still a relatively new initiative and will be evolving over the coming months.
Beer Challenge: A relatively new event in our group. Every so often we'll all agree to brew a certain style of beer to bring to an upcoming meeting for tasting by the group. For example, in October we set the styles for a January tasting as WinterWarmer/Stout/Porter. No prizes will be awarded for this challenge, only bragging rights and valuable feedback.
Random Beer Events: We're not limited to just the events listed above. If you've got an idea for a worthwhile event centered around beer (education, enjoyment etc.), let us know and we may make it happen!
Homebrewers Association
Homebrewers Association