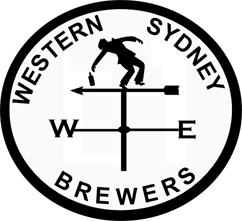 Name: Western Sydney Brewers (WSB)
Founded: June 2009
Membership: Unknown, but there's usually more than five at a meeting. Theoretically, there's 113 registered members on the forum.
Location: Parramatta, NSW Australia
Mailing Address: 5 Cook Pde St Clair NSW 2759
Email: joshb78@gmail.com
Website/Social Media: WesternSydneyBrewers.com
Membership Dues: Free
How and why did your club form? We're a bunch of homebrewers from Western Sydney. Sydney already had a few clubs when we formed, but being in such a sprawling city, none catered to our area. So we got together at one of the local craft breweries to organize ourselves. We were looking for a club where we could get together to discuss and share our latest brews, and also to organize brew days.
What's your club vibe? Just guys who like beer and brewing it. We cater to all levels of brewing. All are welcome to come and hang out, share your beer and talk all sorts of rubbish. There's no formal classes or discussions, but some members ask more questions about the beers we're trying than others. Ingredients, yeast, fermentation temperatures and gravities are all talked about, but in a relaxed way over a few glasses of homebrew.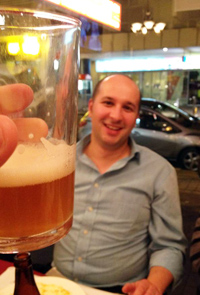 You mentioned you have 100+ members on your forum. Tell us a little more about the forum and its role in the club? It's where we discuss recipes and brewing processes as well as organize most of our get togethers. If we have a case swap, we give feedback there also. The more handy members show off their homemade equipment in the forum, too. One guy has made his own Braumeister (electric all-grain brewing system) and a bottle filler using a car aerial.
Meetings: Our meetings are held on the last Thursday of every month usually at a local BYO restaurant. In Parramatta that is Flavour of Ceylon where the extra hot mutton curry is a standard. We then get reminded of the club meeting the next morning if you catch my drift. Every so often we will meet at 3 Junctions Thai in Penrith to cater for the brewers even further west than Parramatta. Until recently, we were alternating with Riccardo's of Wentworthville, but they are no longer there, so we are looking for a new pizza shop in the west.
Competitions: At the start of a few of our monthly meetings, we have held fun competitions based on taste and overall impression rather than BJCP scoring. For these competitions, we would all brew a particular style and vote to name the best beer, but it was mainly just a chance to try each others spin on a style and to chat about different brewing techniques. A few members have won medals at the New South Whales State Homebrew Competition, which are then sent to the Australian Amateur Brewing Competition (nationals).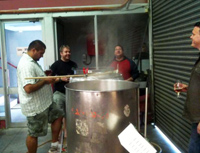 Fun Activities: We have a couple of brew days every year. The last was a get together at the pilot brewery of Riverside Brewing Company. We brewed 200L of brown ale and each took home a 20L cube to ferment and dry hop as we pleased. A few months later we had a tasting of all the beers. It was interesting to see how different yeast and hopping changed the beer. One member even used cacao nibs.
What is the homebrew scene like in your part Australia?
Homebrewing in Australia is growing. There have been two Australian National Homebrew Conferences (ANHC), held in Melbourne in 2008 and 2010. The third is coming up in October this year. Speakers have included John Palmer, Jamil Zainasheff, Gordon Strong, Chris White, Jess Caudill and Randy Mosher. This year, Matt Brynildson and Stu McKinlay will be just two of the presenters. Western Sydney Brewers had a stand at the 2010 ANHC Club Night. We poured about five beers and all were well received.
In Western Sydney there are a lot of "Kit and Kilo" brewers without clubs. Western Sydney Brewers is one source of inspiration for those looking to get more involved in homebrewing and improving their beer. The most local homebrew shop in Western Sydney, Absolute Homebrew, has a good selection of local and imported ingredients. Every month they have a Wyeast pre-order so you can get your hands on fresh quality liquid yeast.
Other info: One of our members has recently established Riverside Brewing Company. They will be producing beer for the local market. It is very exciting for the club because we will get to sample all the new creations.
Homebrewers Association
Homebrewers Association