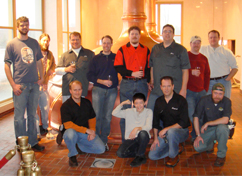 From the humble beginnings of 2 homebrewing neighbors, Eric Wentling and J.D. Ludford sipping beer on the patio of Schell's Brewery, discussing the limited access to larger homebrewing clubs and the difficulties of living on the outskirts of the Twin Cities, Jack of All Brews was founded in 2006. With the homebrewing revival underway and the southwest metro population boom, JAB soon found many new members excited to share in their hobby. Currently JAB takes pride in 35 active club members, who meet on the second Friday of the month, with at least half their members in attendance at each meeting. The members' hometowns range from Prior Lake and Glencoe to Saint Paul. JAB members use its helpful online forum to stay connected between meetings.
As an active, young club, JAB has established some traditions, but also is not afraid to try new things. There are several annual events including the Holiday pot-luck/ blind gift exchange, as well as the You Win Jack Awards – commemorating the best brewers and most involved of our group. Each monthly meeting features an opportunity to give away a traveling trophy – the coveted Golden Mash Paddle award for the best brew of the night, what a great pat on the back for these honorees to receive! The club takes trips to several local breweries and brewpubs and brings guest speakers to club meetings. Three to four times a year the club highlights a particular style of beer and gets many of the members to brew that style, encouraging beer method experimentation and knowledge. Other events include field trips to Rahr malting, an Iron Brewer competition, and even a family picnic.

Meetings begin with a few shared beers while awaiting a quorum, and then move to club business. Each meeting highlights some beer education: style presentations, new technique demonstration, hands-on labs for calibrating equipment, etc. JAB's philosophy is to have fun while learning something new. Many of the veteran zymurgists and rookie members have moved to all-grain and kegging. Their seasoned experts, including BJCP judges and competitors, are glad to show newcomers the ropes of advanced brewing. In fact, the members' skill set and overall quality of the beers have significantly improved since we started (old timers remember the foaming beet beer of 2007)!
Jack of All Brews members love to try new things; JAB seized the opportunity to participate in the 2010 NHC in Bloomington, MN even though no members had ever attended a National Homebrew Conference. Serving beers at the Hospitality Suite and Club Night was a club milestone event. One member was even interviewed by BrewingTV.com about one of his beers.

Come take part, be willing to learn, experiment, and expand your homebrew experience with a growing club, cheers! Check 'em out @ www.jackofallbrews.org.
Homebrewers Association
Homebrewers Association