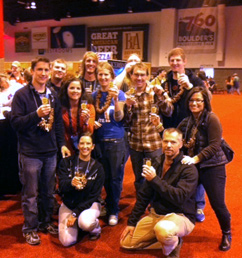 Name: Liquid Poets Society
Founded: 2006
Membership: ~150 members
Location: Fort Collins / Northern Colorado
Email: president@liquidpoets.com
Website/Social Media: http://liquidpoets.com/
Membership Dues: $20/year individual, $25/year family
Who we are and how/why we got started:
We are a dedicated group of homebrewers living, working and brewing in Northern Colorado. The club was started in 2006 when some members of another small club decided that they wanted a more formal club with monthly meetings, paid dues and fun events. From the beginning, the club has had an emphasis on being good members of the community and using club funds for charity donations. Every year we have a silent auction at our winter party and we donate all of the proceeds to the local food bank. Last year, we donated $1,000 of club funds to the victims of the High Park Fire that ravaged our local mountain communities.
Our club is very active and has a lot of talented members. We have over 25 BJCP judges in the club. Last year, club member Andy Mitchell won a gold medal at the National Homebrew Competition. Member Remi Bonnart was chosen as the National Homebrew Competition Homebrewer of the Year a few years ago. Another one of our members, Jay Shambo, won a gold medal at the Great American Beer Festival Pro-Am Competition in 2012 for his entry with New Belgium Brewing Company, which also ended up being chosen as one of the recipes for Big Brew Day in 2013. Additionally, at least five club members have gone on to start their own professional breweries (Equinox, Grimm Brothers, Pateros Creek, Black Bottle Brewery and Verboten). We are very lucky to have so many talented members.
Our club vibe:
Our club vibe is pretty laid back. We have always tried to make it a balance of fun and education.
Meetings:
Our meetings happen on the first Thursday of every month and they rotate around town to one of the many different breweries in Fort Collins. We get a lot support from our local breweries and it would be difficult to host such large club gatherings every month without them. We are very grateful for all that the support we get from our local breweries!
We usually do a tasting panel at our monthly meetings, where people can bring their beers and get very direct feedback. We also do a style of the month that is led by BJCP judges and is more focused on the process of beer judging. It's a great way for people to learn how competition beer judging works. We host the occasional lectures on various brewing-related topics. We are trying to make it more than just sharing homebrew, as we hope to help shorten the learning curve for beginning brewers, and continue to help advanced brewers continue their education.
Competitions:
We host an annual homebrew competition called the Liquid Poetry Slam. We also host another competition that is just for meads and ciders called The Muse Cup. This year we combined both competitions into one and it went really well. We have a lot of Pro-Ams for the Liquid Poetry Slam, so we often get entries from all over the country. This year there were eight different Pro-Ams that were chosen from our competition!
Fun Activities:

One of the most fun events we do every year is Big Brew Day. This year we had about 40 participants brewing, and we brewed a total of 316 gallons. We also have a summer BBQ that is a lot of fun. We host a summer campout in the mountains outside of Fort Collins. Another fun thing we do is club barrel projects, where several people collaborate to fill a barrel with homebrew. We have had some amazing beers come from these projects. Additionally, we have a holiday party at the end of every year that is a blast. At the holiday party we have a silent auction of items donated by club members, and we give 100 percent of the proceeds to the Larimer County Food Bank. Last year we were able to raise almost $1,000 for charity.
Homebrewers Association
Homebrewers Association