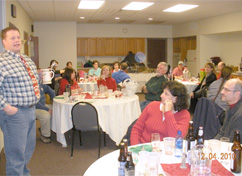 Founded: January 2008
Fees: $25 individual or $35 for couples
Location: Northeast Ohio in beautiful Lake County
Website: www.littlemountainhomebrewers.webs.com
E-Mail: littlemountainhba@gmail.com
How we started: LMHBA was founded by two homebrewers who worked together and one day found that they shared the same Hobby. In January of 2008, Joel Gayer and George Plaatje invited a group of friends over to the first meeting and brew session of LMHBA. The group continued to meet once a month while word spread through their home website as well as the AHA website. Today the club continues to grow with membership exceeding forty members.
Membership: We offer both single ($25) and couple memberships ($35). Membership gives you a discounted price at participating supply shops, breweries and brew-on-premise locations. It also covers expenses incurred by our annual parties. However, anyone is welcome to attend meetings throughout the year, The more the merrier! Our membership base includes brewers of all levels from beginners to homebrewers who have started businesses in the brewing industry. In fact to date four of our members have started brewing related businesses. One Brewpub (Chardon BrewWorks and Eatery), one Brew On Premise (Little Mountain Brewing Company), and two Brewers Supply Stores (Draftsman Brewing & The Brew Mentor).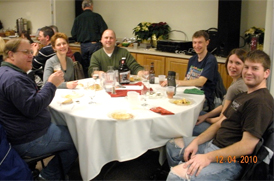 Meetings and Gatherings: We hold meetings once a month on a Saturday evening at 6:30pm. The meeting dates are posted on the calendar on the website. We will occasionally have themed meetings (i.e. Irish night or Oktoberfest) where participants are asked to bring a representative dish and beer relating to the theme. In addition to meetings we organize "Nights Out" in various beer related establishments in our area. This is usually a weeknight and gives our members a chance to socialize with each other more than just at the meetings. In the past we have also organized short trips to brewing related destinations. This can be a day trip or even an overnight trip. We will continue to have these trips in the future and their date and place are determined by interest and availability.
Our club holds 2 annual events: our Family Fun Picnic in September and our Christmas party that also coincides with our final meeting of the year. The Picnic is for all ages and gives members a chance to invite family and friends to see what the club is all about. There are games and prizes for everyone. Our Christmas party is catered and we hold raffles for great prizes. This meeting is free to members, but requires a donation for non-members to attend.
Competitions: LMHBA just started a members only competition in 2010. Many of our members had never entered a competition before, so we had a friendly in house competition with BJCP certified judges. We picked a style and competed amongst ourselves. There were prizes and medals and we have a traveling trophy (now being held at 2010 winner Todd Donnelly's house). We will continue to hold in house competitions at least annually hopefully biannually. Our next base style is Stouts, and the competition will be held in May 2011. We also encourage our members to support the brewing community and enter other competitions as well. Competition can only improve your skills.
New to brewing?: If you are interested in starting homebrewing we encourage you to try it with us! LMHBA has offered basic brew sessions at meetings about once a quarter for folks who have never brewed before and want see how it is done. We typically purchase a kit beer and do a stovetop brew during our meeting. If you are an inexperienced brewer that doesn't mean you are only allowed to watch. You will run the brew and one of our seasoned brewers will be there to help you out. Also once a year during "Big Brew Day", we have members who will do All Grain, and everyone is invited to participate. There are all levels of brewers at LMHBA who are willing to share knowledge and help others whether they are new to the craft or seasoned veterans.
Where to find us: LMHBA can be found on our website or now on FaceBook. We can also be contacted via email at littlemountainhba@gmail.com. Hope to hear from you soon!
Homebrewers Association
Homebrewers Association