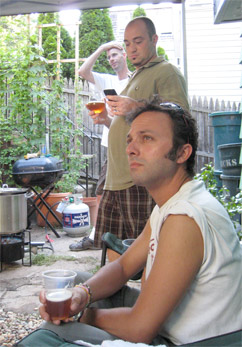 Name:
The New Brighton Homebrew Society (NBHS)
Founded:
2009
Membership:
About a dozen active members that brew and two dozen or so that stop in for the tastings!

Location:
Staten Island, NYC

Mailing Address:
72 Hendricks Avenue Staten Island NY 10301

Email:
Website/Social Media:
Club Motto:
Here is an excerpt from our monthly club e-mails. It's not necessarily a motto but it pretty much sums up what we're all about:
"You don't have to make beer to be involved in what we're doing. Perhaps you have a passing interest in brewing, or maybe you want to train your palate or just see what's going on in the neighborhood. Regardless…ALL ARE WELCOME!
Membership Dues:
We kind of shy away from making the club feel like a union meeting. Up until this point we haven't felt in necessary to collect dues. Whenever the group agrees upon an expense we just all kick in to cover it. We should be called The Democratic Homebrew Society!

Meetings:
We hold our meetings every third Sunday of the month and we'll alternate between "Brewing" and "Tasting" meetings. At the "Brewing" meeting we'll brew what was agreed upon. At the next month's "Tasting" meeting, if the beer is ready, we'll sample the beer and compare it to commercial examples as well as our member's homebrewed versions. We then pick the next beer to be brewed for the following month.
Competitions:
There has only been one local competition in 2010 called, The Staten Island Brewfest. Four of our members entered the competition and two walked away with medals! One took a gold and the other took a bronze! That's 50 percent success!
Other Fun Activities:
Our club is involved in a soon to be annual craft beer festival, The Richmond County Craft Beer Fest. It's the biggest beer event ever thrown on Staten Island, hosting roughly 2,000 to 2,500 people. The festival will be held at the Richmond County Bank Ball Park, where the Staten Island Yankees play. The event pairs local eateries with specific craft beers to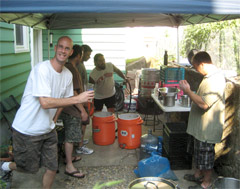 create a dish that compliments the beer! The NBHS will be hosting the homebrew portion of the event called The Malt Shed. First prize is $1,000, 2nd prize is $250 and 3rd prize is $150. There will also be a People's Choice award which will be decided by public vote. Our local homebrew store, Brooklyn Homebrew, will be supplying prizes for this category.
Next year, with a little more planning time, we hope to have a real AHA/BJCP certified event to help put Staten Island on the map for craft beer week. There are four members in our club competing for the grand prize and we believe that are chances are good!
My brewing sculpture "Brewing As Art" (featured 11/15/10) will also be on display at the festival.
---
Mark Zappasodi has begun writing a bi-weekly beer column in the Staten Island Advance. The column is called, "The Malt Shed", taking its name from the homebrew competition. The column will primarily focus on homebrewing but will also examine craft beer and beer culture. Mark is very excited for the column to be in a local paper, allowing for a unique perspective on the homebrew and craft beer movement.
Homebrewers Association
Homebrewers Association