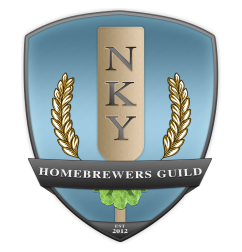 Name: Northern Kentucky Homebrewers Guild
Founded: January 2012
Location: Northern Kentucky
Email: contactus@nkyhomebrewers.org
Website: NKYHomebrewers.org
Social Media: Facebook | Twitter
Club Motto: A brew-centric club dedicated to advancing the craft of homebrewing in Northern Kentucky.
Membership Dues: None

Who we are and how we got started/why we got started:
We are brewers and beer lovers who like to hang out with other beer lovers because normal people just don't understand us. We are a brew-centric club, so our core purpose is to brew together once a month. We believe there really is no better way to teach or learn than by doing. We also attend happy hours, local craft brewery tours, craft beer festivals and competitions as a club. The culmination of our members' experience and knowledge helps us all to become better brewers and beer enthusiasts.
The expressed desire of local homebrewers to have somewhere to brew, learn and discuss brewing together was the primary driving force in our creation. Shortly after opening, our local homebrew shop was getting a lot of interest from brewers to have a homebrew club in the area, something that had not existed before. Local homebrewers Jon Covey and Eddie Unterreiner had spent many nights brewing and talking about how great it would be to have a group of other local brewers to share their hobby with. After learning about the interest from the shop, and a "few" pints of homebrew, they decided to meet the demand and start a club. A couple of hours of brainstorming later the NKHG was born. Within six days, a website and Facebook page were created, the club was registered with the AHA and six brewers had gathered to brew beer at the inaugural meeting.
Our club vibe:
No BS and all brew! We have many types of beer enthusiasts among us, but we all share a common laid-back, enthusiastic passion for the hobby. We have brewers who like to get together on any given night to make beer (sometimes into the early hours on a work night), beer geeks, gadget guys, competition driven brewers, social brewers and craft beer lovers. The common thread of the club is that we all share a dedication to advancing the craft of homebrewing in Northern Kentucky, and sharing the hobby with other like-minded individuals.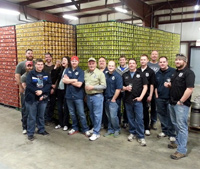 Meetings:
Our meetings are the core purpose of our club. We gather monthly at a member's residence to watch, help, teach and learn the process of creating high quality, hand crafted beer. We typically have someone leading an educational session on anything from ingredients, equipment, technique or whatever else we can think up. We meet every month of the year—a little rain, snow or cold weather hasn't stopped us yet! Our meetings are always an open door for anyone who wants to learn or brew, don't be shy—stop by and visit us anytime!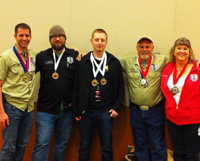 Competitions:
We held our first interclub competition this year with the "Strange Brew Competition." Guilders had to do a blind draw from a specially selected pool of "strange and odd" ingredients to brew with. We are currently planning and hope to host our first AHA sanctioned competition in 2014.
Fun Activities:
As mentioned earlier, we attend beer festivals, visit breweries and many other homebrew and craft beer events as a club. We held our first holiday party this year at the home of Dave and Josanna Dixon, which turned out to be a huge success.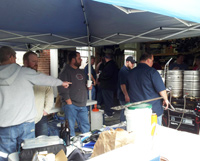 Guild members tend to get together at least once a week to sample homebrew, go to a local beer bar or just do a spur of the moment brew at someone's house. Most weekends you can find at least a few of the NKHG brewers making beer somewhere. Some charitable fundraising is currently being planned as well.
Fun Fact:
Word on the street is the NKHG was the first club to publish a Harlem Shake video! It was filmed at the March 2013meeting and brew-out at the Dixons. Filming the video was a fun way to finish a hugely successful brew day.
Homebrewers Association
Homebrewers Association